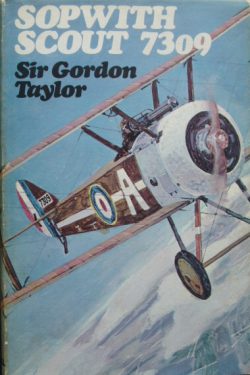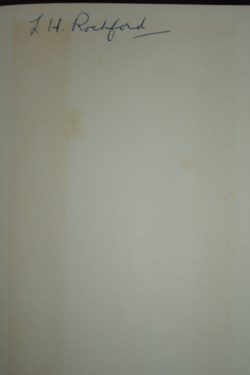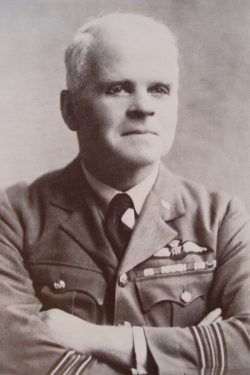 SOPWITH SCOUT 7309
By Sir Gordon Taylor GC MC
Signed by Squadron Leader LH Rochford DSC* DFC
Sold
Signed on the front-end paper by
Squadron Leader Leonard H 'Tich' Rochford DSC* DFC
Published by Cassell.  First edition 1968. 177 pages and well illustrated with photographs.
Very Good condition hardback book in blue boards with silver gilt titles.  There is a little light spotting to the end pages and edges but otherwise the book is clean and square with a solid binding.  The dustjacket is unclipped and in Near Fine condition with just a little grubbiness to the spine.  Tucked in with the book is a menu from Le Grand Hotel in Paris for a dinner on Wednesday 11 November 1981  for 'Flying Aces of First Air War'.  From the position of Rochford's signature, it can be surmised that this book was Rochford's personal copy and that he attended the dinner, keeping the menu with the book as a souvenir.
Sopwith Scout 7309 was a single seat fighter aircraft which the author, Sir Gordon Taylor, flew with 66 Squadron RFC through the spring and summer months of 1917.  At the time, he was an 18 year old Australian who won the MC and was one of only four men in his flight who survived the full six month tour of duty. Though the 'Pup' was a delightful aircraft to fly, it was outclassed by the German Albatross and this is the author's account of how the squadron dealt with the situation.
Sir Gordon became known between the wars as a leading pioneer of civil flying, proving and developing many of the world's great trans-oceanic air routes.  In 1935 he was awarded the George Cross for a famous incident in which he climbed out onto the wing of an aircraft high above the Tasman sea to tackle a seized engine.
Sir Gordon had always been reticent about his youth in the RFC, believing that the readers preferred a romantic, glamourized version of the pilot's war to the truth of the fearful days he had known. However, in the year before his untimely death in 1966, he was persuaded to write this book and to his surprise, 'found myself back at Vert Galand Farm aerodrome, with the sound of the guns at Arras rumbling in the night…and in the high air over Carvin & Douai I stalked again the shark-like Albatross, flying my agile little fighter, Sopwith Scout 7309….'
Squadron Leader LH 'Tich' Rochford wrote about his two action filled years as a WW1 fighter pilot with the famous No 3 Sqn RNAS in his book 'I Chose the Sky' (William Kimber 1977).  He flew both the Sopwith Pup and Sopwith Camel.  While flying many hundreds of hours of operations, he was credited with 29 victories. His friend and CO Raymond Collishaw said: "Tich was a truly remarkable person.  He stood only a bit over five feet and I think I could have worn him as a watch charm.  He had a quiet, gentle and unassuming manner but when he got into the cockpit he was absolute hell on wings.  No one would suspect that inside such a tiny frame was such a heart of a lion. Not unless they'd seen Tich in action as I did many times." 
An excellent and scarce Great War flying memoir with the high probability that this book belonged to a distinguished Sopwith ace.