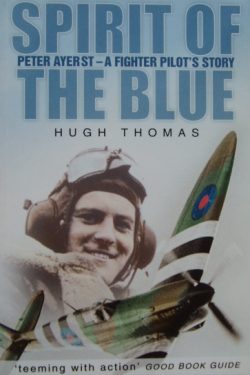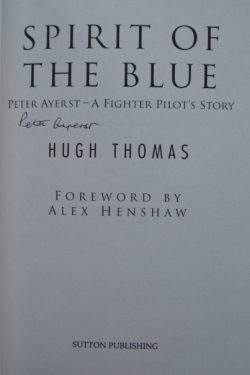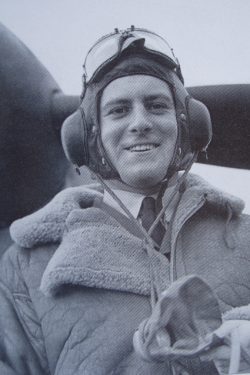 SPIRIT of the BLUE
Peter Ayerst ~ A Fighter Pilot's Story
Signed by Wing Commander Peter Ayerst DFC
Signed by 

Wing Commander Peter Ayerst DFC

 

 
Sutton 2007. 254 pages and well illustrated with photographs.
Mint condition paperback book.  As new and unread.
Few pilots flew operationally from the beginning to the end of the Second World War. Fewer still can claim to have taken part in the Battle of France, Battle of Britain, El Alamein, and the D-Day landings as well as bomber escort duties in the closing days of the war.
Peter Ayerst is one such man and his tale is told here for the first time. At the outbreak of war he went to France with 73 Squadron flying alongside Cobber Kain. He became the first RAF pilot to engage a Bf 109 in combat and survived a confrontation with twenty-seven enemy aircraft, his Hurricane riddled with bullets. With the Fall of France, he was recalled to England where he spent the Battle of Britain summer of 1940 instructing at No. 7 OTU Hawarden, shooting down a Heinkel He 111 bomber.
Posted to North Africa in 1942, he was shot down in the desert and crash-landed in a minefield ! He flew a variety of missions, culminating in a strafing of Axis motor targets 400 miles behind enemy lines, personally destroying a Ju 52 and seventeen vehicles. Following a period of instructing in South Africa, Peter returned to Britain in 1944, flying high-altitude Spitfires on interception flights over France. He took part in escort duties on D-Day and at the end of 1944 he was awarded the DFC.  In early 1945 Peter became a Spitfire production test pilot at the Castle Bromwich factory under chief test pilot Alex Henshaw who  became a good friend and taught him how to barrel roll the Lancaster bomber.
Peter was a genial and popular veteran who attended many events up to his death in 2014 and this well written and action packed memoir is a fitting tribute to a skilful pilot and true gentleman.