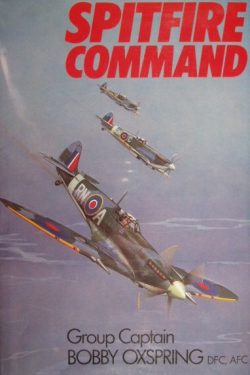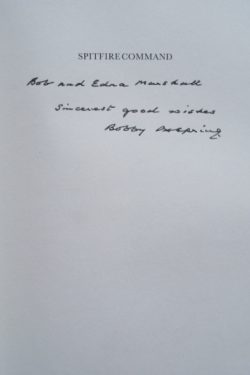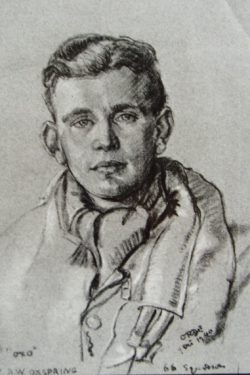 SPITFIRE COMMAND
By Group Captain Bobby Oxspring DFC** AFC
Signed by Group Captain Bobby Oxspring
Inscribed and signed by Bobby Oxspring on the half title page in black ink
'……. Sincerest good wishes'
Bobby Oxspring
William Kimber First Edition 1984.  196 pages and 28 pages of photographs
Fine condition hardback book in dark blue boards with a Fine condition dustjacket.  Small, neat gift inscription on the front end paper.
One of the original 'Ten Fighter Boys' of 66 Squadron, Bobby Oxpring flew Spitfires throughout his wartime career starting with Dunkirk and then the Battle of Britain.  Apart from two brief rests from operational flying, he was one of that select band of fighter plots who flew throughout WWII, scoring over 13 victories and being awarded 3 DFC's.  He died in 1989.
A great signed Battle of Britain memoir.