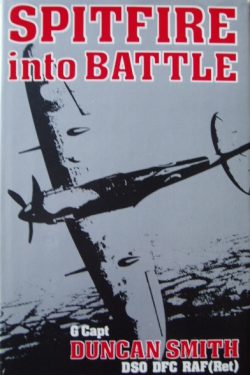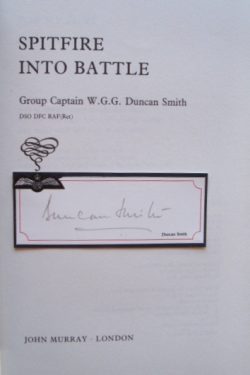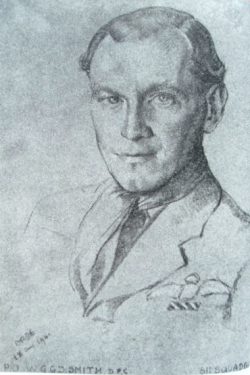 SPITFIRE into BATTLE
By Group Captain WGG Duncan Smith DSO* DFC**
Signed by Group Captain Duncan Smith DSO*DFC**
Bookplate signed by Duncan Smith in pencil
John Murray First Edition 1981.  235 pages, photographic endpapers and well illustrated with photographs.
Fine condition hardback book with red boards. Clean, tight and unmarked. Very Good condition dustjacket in a protective wrapper.  The book comes with an obituary for Duncan Smith from the Daily Telegraph
Duncan Smith ('Smithy'), flew and led fighter missions almost continuously from the Battle of Britain through the struggle for Malta, the invasion of Italy and the liberation of France. He was an ace with at least 17 victories.  Jeffrey Quill called him "One of the greatest British fighter pilots and fighter leaders of the Second World War".  He died in 1996. 
A great book with a neat and scarce signature.