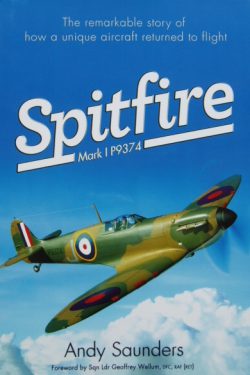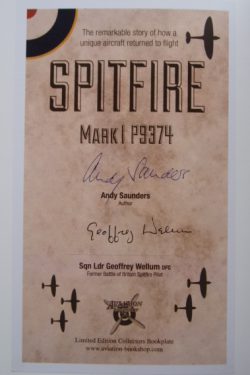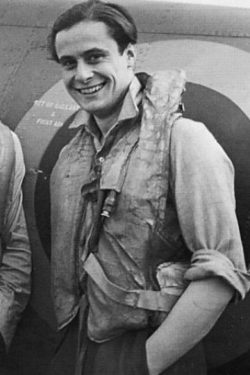 SPITFIRE Mark 1 P9374
The remarkable story of how a unique aircraft returned to flight
Signed by Geoffrey Wellum DFC
Limited Edition Collectors Bookplate signed by
Squadron Leader Geoffrey Wellum
& Andy Saunders
Published by Grub Street. First edition 2012.  167 pages and crammed full of photographs, mostly in colour.
Mint condition hardback book and dustjacket.  As new and unread.
This remarkable story of one particular Spitfire spans a period of over 70 years, from its loss in France during the Dunkirk evacuation, its re-emergence on a Calais beach some 40 years later, and then through an exacting period of restoration and rebuilding to produce an airworthy Spitfire which took to the skies again in September 2011.
Andy Saunders relates the fascinating story of the recovery of this Battle of France Spitfire I from the sands of Calais during the early 1980s and its subsequent return to the UK for rebuild and restoration to flying condition. The full history of the airframe from the factory to loss, the aeroplane's operational history with 92 Squadron and the story of the pilots who flew it (primarily Peter Cazenove) during its career are also told, as is the unfolding saga of its restoration and return to air detailing its progress through the workshops right up to the first flight in September 2011. P9374 is the earliest mark of Spitfire flying anywhere in the world.
As he relates in the foreword, aged just 17, Geoffrey Wellum arrived at No 92 Squadron two days before the loss of P9374, never having seen a Spitfire before.  He subsequently became one of the youngest participants in the Battle of Britain. In March 1942 he went to No 65 Squadron at Debden, and from there to Malta. Returning to England he became a Typhoon test pilot, and stayed in the RAF after the war as a staff officer. His autobiography 'First Light' is considered to be a modern classic war memoir.

Lavishly produced and colourfully illustrated, this is a fascinating and collectable book for any Spitfire and 92 Squadron enthusiast.