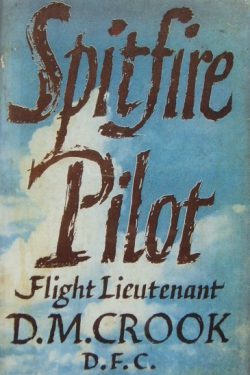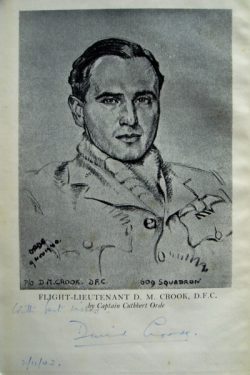 SPITFIRE PILOT
A Contemporary Account of the Battle of Britain
Signed by Flight Lieutenant David Crook DFC
Price: Serious Offers invited until 28 February 2023
JANUARY & FEBRUARY     ~    *BOOK OF THE MONTH*
There are some aviation books that are so rare and highly sought after by collectors
from all over the world that it would be unfair to sell such a book on a 'first come' basis. 
Therefore, each calendar month, Spitfire Books is offering a rare book for sale
and invites collectors to submit a 'best offer' during the month by email or telephone
---
Signed on the frontispiece portrait by
Flight Lieutenant David Crook DFC
'With best wishes
2/11/43'
Published by Faber and Faber.  First edition, 2nd impression July 1942
A hardback book in Very Good condition despite the age of book and wartime paper standards. It has a Very Good condition, unclipped dust jacket which has some wear and minor loss to the corners and top of the spine but looks smart in a protective cover. A nice copy of this classic book.
David Crook, a pre-war Auxiliary, recounts his experiences flying with 609 (West Riding) Squadron in 1940 and '41. During his first tour, with which this book deals, he was credited with 7 victories. Apparently, most of the book was written while waiting at 'readiness'.  After being rested he returned to operations and brought his score to 12½. He was listed as Missing In Action on 18 December 1944 aged 30 whilst on a high level photographic sortie.
One of the most collectable signed Battle of Britain memoirs, and this is a well preserved copy.