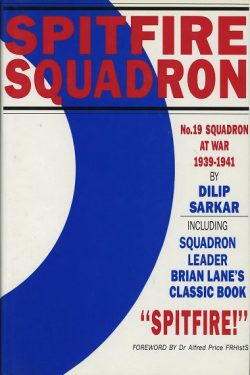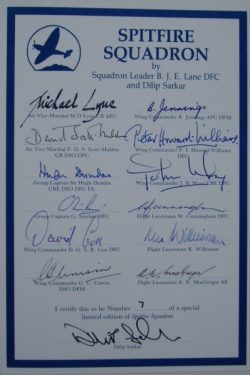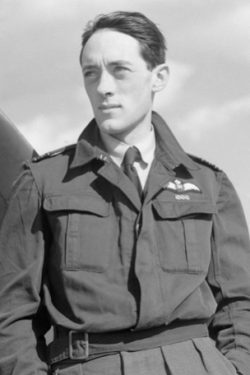 SPITFIRE SQUADRON
No. 19 Squadron at War 1939 ~ 1941
Limited Edition Multi-signed Bookplate
Limited Edition Bookplate 7/100 Signed by 12 Battle of Britain Pilots
Air Vice-Marshal Michael Lyne CB AFC
Air Vice Marshal David Scott Malden CB DSO DFC
Group Captain Sir Hugh Dundas CBE DSO DFC
Group Captain Gordon Sinclair DFC
Wing Commander David Cox DFC
Wing Commander George 'Grumpy' Unwin DSO DFM*
Wing Commander BJ 'Jimmy' Jennings AFC DFM
Wing Commander Peter Howard Williams DFC
Wing Commander John Wray CBE DFC
Flt Lt Wallace Cunningham DFC
Flt Lt Ken Wilkinson
Flt Lt A N MacGregor
Air Research Publications 1990.  192 pages and 12 pages of photographs
Fine Condition hardback book in red boards with gilt titles and Very Good Condition clipped dustjacket.  Clean, bright, tight and feels unread. 
Part one of this book is a reprint of Squadron Leader Brian Lane's classic wartime book 'Spitfire!' and Part two is the story of Brian Lane DFC and 19 Squadron 1939-41 written by Dilip Sarkar.
This is an excellent book which fills in many details and background to one of the first and most evocative published contemporary accounts of the Battle of Britain.  The exploits of an interesting and pioneering squadron (first to be equipped with the Spitfire and first with cannons) are covered together with a biography of Brian Lane whose photo is often used as 'the face of the Battle of Britain' and who was tragically killed on his first mission on his return to 'ops' in 1942.
Enhanced by an impressive collection of predominantly 19 Squadron Battle of Britain signatures (plus a few distinguished others) this is a highly collectable Battle of Britain book.