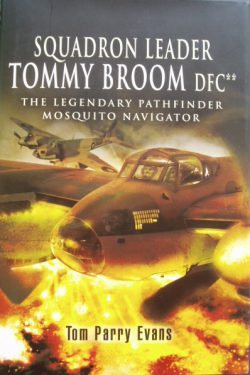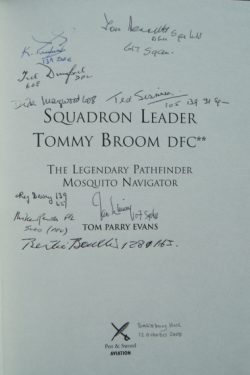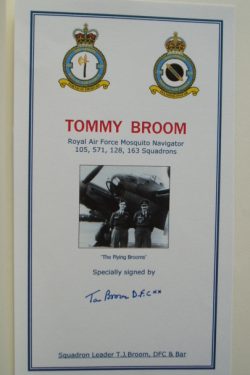 Sqn Ldr TOMMY BROOM DFC**
The Legendary Pathfinder Mosquito Navigator
Multi-Signed
Bookplate laid in signed by 
Squadron Leader Tommy Broom DFC** 

Signed on the title page by 9 distinguished Pathfinder Mosquito Pilots and Navigators
at Salisbury Hall in October 2008
Ken Tempest ~ 139 Squadron
Tom Bennett ~ 617 Squadron
Ted Dunfold ~ 608 Squadron
Dick Maynard ~ 608 Squadron
Ted Sismore ~ 105, 139,21 Squadron
Reg Davey ~ 139, 627 Squadron
Mike Randles ~ 540 PRU
Ian Livesey ~ 107 Squadron
Bertie Boulter ~ 128 & 163 Squadrons
Pen & Sword first edition 2007.  192 pages and well-illustrated with photos.
Very Fine condition hardback book and dustjacket. Practically as new.
Tommy Broom joined the service at eighteen years of age in 1932 and after service in the Middle East, he first saw action against Germany in a Fairey Battle during 1939 with No 105(B) Squadron. He continued to serve with 105 Squadron until November 1940, a period that included the disastrous Battle of France and the low-level attacks on the Channel ports to destroy the invasion barges, in both of which actions the squadron suffered severe losses.
Having completed more than his share of front-line flying he was transferred to 13 OTU at Bicester, to teach the influx of newly-trained navigators the additional skills required for combat situations. He returned to 105 Squadron in January 1942 to complete a further tour. During a raid in summer 1942 his aircraft crashed into an electricity pylon near Antwerp at over 250mph. Both he and his pilot miraculously survived, evading capture with the help of the escape lines and crossed the Pyrenees back to the UK.
His next posting was to 1655 Mosquito Training Unit where he stayed until May 1944. He then returned to front-line flying until the end of the war, belonging to numbers 571, 128 and 163 Mosquito Squadrons.
Tommy completed 83 operations during the war and teamed up with a namesake as his pilot, Ivor Broom – they became known as the 'Flying Brooms' – and completed 57 operations together.
The citation for his third Distinguished Flying Cross reads: 'Flight Lieutenant Broom DFC was a navigator in a Mosquito aircraft of 128 Squadron detailed to place a 4000 lb bomb up to the mouth of a railway tunnel in the region of Kaiserslautern on the morning of the 1st of January 1945. This operation required great skill, determination and the utmost precision. By his assistance to his pilot this attack was carried out most successfully. Flight Lieutenant Broom has completed 73 operations against German targets, the majority of which were heavily defended and including 15 against Berlin. He has, at all times, shown consistent keenness and skill.'
This book is full of exciting flying and dangerous escapes, but the good nature and quiet confidence of this brilliant navigator has drawn praise from the pilots he flew with and those he trained.
A fascinating Pathfinder memoir and a great addition to a signed aviation book collection.