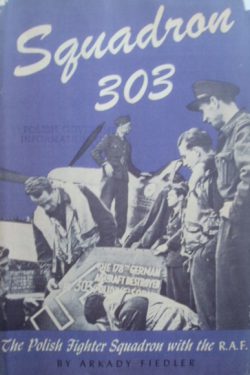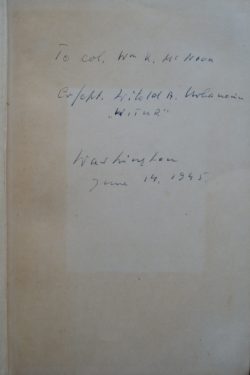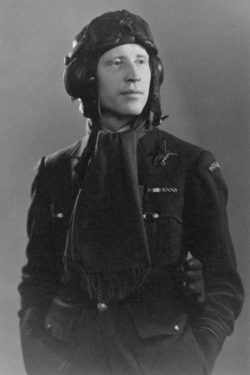 SQUADRON 303
The Polish Fighter Squadron with the RAF
Signed by Group Captain Witold Urbanowicz
Price: Serious offers invited until 31st May 2022
MAY     ~    *BOOK OF THE MONTH*
There are some aviation books that are so rare and highly sought after by collectors
from all over the world that it would be unfair to sell such a book on a 'first come' basis. 
Therefore, each calendar month, Spitfire Books is offering a rare book for sale
and invites collectors to submit a 'best offer' during the month by email or telephone
---
Inscribed and signed on the front end paper by
Group Captain Witold Urbanowicz

To Col. Wm K. McNown

Gp/Cpt Witold A Urbanowicz
"Witur"

Washington, June 14, 1945
William McNown joined the USAAF in 1936. He was the first CO of the 324th Fighter Group (June 1942 to December 1943)
flying P40s in Tunisia. After a staff tour in Washington he was appointed Military Attaché to Egypt in 1946. 
Published by Roy, New York, First Edition, second print June 1943.  182 pages and well illustrated with photographs.
Very Good condition hardback book with silver gilt Polish pilot wings embossed on the front cover.  The Near Fine condition dustjacket is complete and unclipped with just a little loss at a couple of the corners. There is a small faint stamp on the front cover which says 'Polish Government Information'. The book is clean and square with a solid binding. There is some marking to the front cover and McNown's bookplate on the inside front cover. Altogether, this is a very presentable copy of the book.  The American edition of this book is far superior in quality to the British Peter Davies edition which was subject to wartime restrictions.
This is the tale of Polish defiance, of the dashing fury with which a few gallant exiled airmen charged into the midst of the enemy and turned 303 Squadron into the top scoring RAF unit of the Battle of Britain and created a legend.  Chapter 15 tells the story of 'Witur' aka Witold Urbanowicz.
Witold Urbanowicz (1908 ~ 1996) was the second highest scoring Polish fighter ace in World War II. During the Battle of Britain, Urbanowicz was credited with fifteen victories and commanded 303 Squadron then helped to set up the first Polish fighter wing at Northolt.  In 1942 he was sent to the USA to recruit Americans of Polish descent and give lectures and he also flew P40s in China and shot down two Japanese aircraft. Post war he settled in the USA.
A scarce Battle of Britain book in this edition, made exceptional by a neat period Urbanowicz signature.