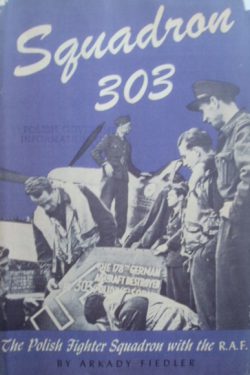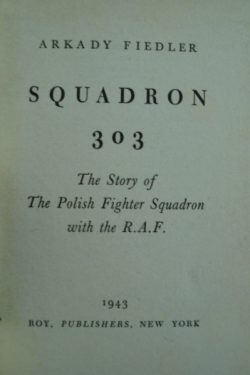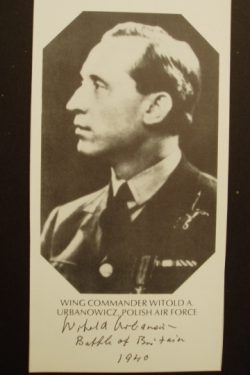 SQUADRON 303
The Polish Fighter Squadron with the RAF
Signed by Wing Commander Witold Urbanowicz
Sold
Pictorial bookplate signed by
Wing Commander Witold Urbanowicz

Published by Roy, New York, First Edition, second print June 1943.  182 pages and well illustrated with photographs.
Fine condition hardback book with silver gilt Polish pilot wings embossed on the front cover.  The dustjacket is a smart reproduction. Clean and tight, this is a very presentable copy of the book.  The American edition of this book is far superior in quality to the British Peter Davies edition which was subject to wartime restrictions.
This is the tale of Polish defiance, of the dashing fury with which a few gallant exiled airmen charged into the midst of the enemy and turned 303 Squadron into the top scoring RAF unit of the Battle of Britain and created a legend.  Chapter 15 tells the story of 'Witur' aka Witold Urbanowicz.
Witold Urbanowicz (1908 ~ 1996) was the second highest scoring Polish fighter ace in World War II. During the Battle of Britain, Urbanowicz was credited with fifteen victories and commanded 303 Squadron then helped to set up the first Polish fighter wing at Northolt.  In 1942 he was sent to the USA to recruit Americans of Polish descent and give lectures and he also flew P40s in China and shot down two Japanese aircraft. Post war he settled in the USA.
A scarce Battle of Britain book in this condition, enhanced by a neat Urbanowicz signed bookplate.