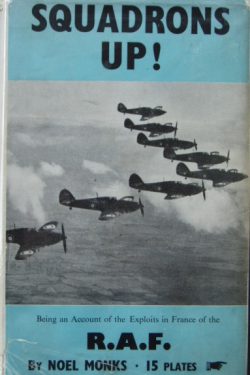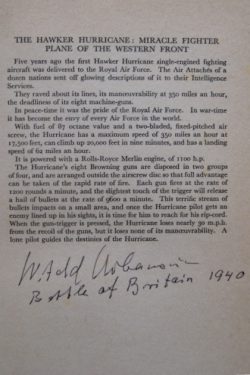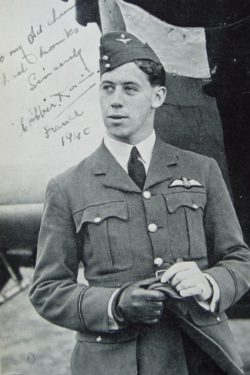 SQUADRONS UP!
Being an Account of the Exploits in France of the RAF
Signed by Wg Cdr Witold Urbanowicz
Sold
Signed by Witold Urbanowicz 'Battle of Britain 1940'
Victor Gollanz First edition, second impression November 1940.  255 pages and well illustrated with 15 photographic plates
Very Good condition hardback book and dustjacket. NB. The signed picture of Cobber Kain (shown above) is one of the plates in the book.
Squadrons Up! was the first book of its kind to be published in WWII and was written by Noel Monks the Daily Mail War Correspondent who was attached to the RAF in France. It is the account of the two RAF Hurricane Fighter squadrons (1 and 73) operating in France from September 1939 to the end of the Battle of France in May 1940.  It is not just a chronicle of aerial strategy but tells the human side of the fighter pilot experience, a subject of massive interest in Britain.  It describes how a fighter pilot on active service abroad lives – and dies. It tells for the first time the story of Cobber Kain and how he met his death – Kain and Monks were close friends and he gives a true picture of the young New Zealand ace as he was in the air, in the mess or in Paris on leave.
Witold Urbanowicz was the second highest scoring Polish fighter ace in World War II. He scored his first victory in 1936 against a Russian recce aircraft that had violated the Polish border. An experienced pilot, he escaped to Britain and was one of the first Poles to join the RAF in January 1940. During the Battle of Britain he flew Hurricanes and was credited with fifteen victories and commanded the famous 303 (Polish) Fighter Squadron. Sent to the USA to recruit Polish descended pilots, he engineered a secondment to the 14th Air Force in China and flew P40s against the Japanese and shot down two Zeros.
This is a scarce book especially with a complete original dustjacket. It is also rare to find a book signed by Witold Urbanowicz so together they are a unique combination.