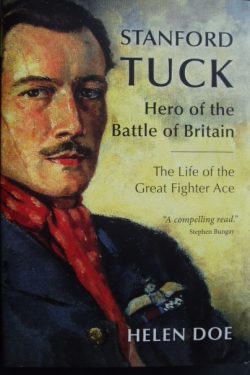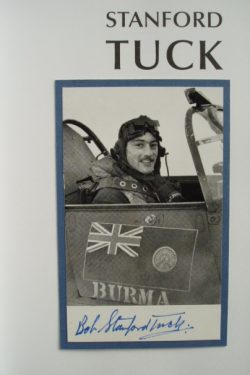 STANFORD TUCK
Hero of the Battle of Britain
Signed by Bob Stanford Tuck
Sold
Photographic bookplate on the half title page with the signature of
Wing Commander Bob Stanford Tuck DSO DFC**
Grub Street First Edition 2023. 256 pages and well illustrated with photos, several previously unseen from Stanford Tuck's archive.
Mint condition hardback book with pictorial covers and gold headbands. Mint condition dustjacket in a protective cover.  The genuine signature is taken from a limited edition signed cover and has been neatly mounted under a glossy photograph. The source cover is included with the book.
For anyone who loved 'Fly For Your Life' then this book is the long awaited full reappraisal of one of Britain's great fighter aces.  It examines the truth behind Tuck's 1956 biography, it looks at the evidence behind the myths, checks out some of the colourful stories and reveals the real Stanford Tuck. Written by historian Dr Helen Doe (daughter of Bob Doe) and with full access to the Stanford Tuck family archive, this thoroughly researched biography is an absorbing read and a much needed addition to the pantheon of books about RAF Fighter Aces.
In January 1942 Bob Tuck was the top-scoring British fighter ace with an official score of 29 enemy aircraft destroyed. With film-star looks he was the glamorous role model for the RAF publicity machine and an eager press and public wanting wartime heroes. He had joined the RAF in 1935 and quickly showed his excellent flying skills. In 1940 his Spitfire squadron (92) was fighting over Dunkirk where he proved himself an expert shot. During the Battle of Britain his legendary prowess grew and he was posted to command a leaderless and demoralised 257 Squadron, this time flying Hurricanes. He continued to prove he was an outstanding fighter ace, gaining the rare distinction of three DFCs and then the DSO for his leadership.
He was shot down over France in January 1942 and imprisoned in Stalag Luft III. His room-mate was Roger Bushell, the mastermind of the Great Escape and Tuck worked with him on the committee and was to be his partner in the escape. In January 1944 however, around 20 POWs, including Tuck, were purged to a new camp. Still determined to escape, when his camp was moved out on the Long March westwards, Tuck and a Polish officer took a risky chance and made their way east to Russian forces and thence to England where he married his patient fiancée eight days after his return.
The book also covers the post war period in which Tuck initially stayed in the RAF, then left to join English Electric under Roland Beamont, took up mushroom farming, was one of the first people to be featured on 'This is Your Life', became good friends with the Luftwaffe ace, Adolf Galland, advised on the film, 'Battle of Britain', and, often with his other friend Douglas Bader, made many media appearances. His health suffered in later years from the impact of his war service and his imprisonment and he died aged 70 in 1987. This book reveals a more complex man than the 'Boy's Own' hero of the previous biography.
A beautifully produced volume which together with 'Fly For Your Life' and 'Stanford Tuck's Flying Log Book' (both available from Spitfire Books) makes an excellent Trilogy about a true Hero of the Battle of Britain.