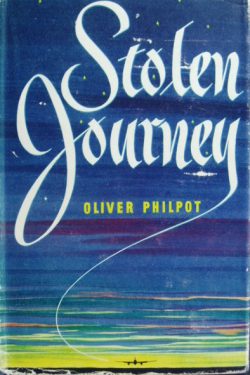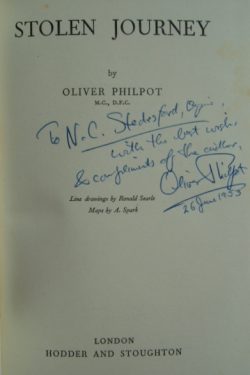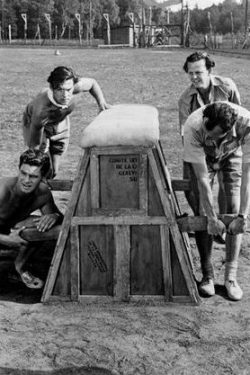 STOLEN JOURNEY
You'll never get out of Sagan....
Signed by Flt Lt Oliver Philpot MC DFC
Sold
Inscribed, signed and dated on the title page by
Oliver Philpot
26 June 1953
Hodder & Stoughton first edition, fifth impression 1951.  412 pages and illustrated with drawings by Ronald Searle and photos.  The endpapers are maps showing the routes of Philpot's escapes.
A Near Fine condition hardback book complete with a Very Good condition clipped dust jacket. The jacket is complete with some gentle rubbing.  The pages are clean and the binding is sound.  Overall a very pleasing copy of a scarce book.
Oliver Philpot MC DFC (1913 – 1993) was a Canadian-born RAF pilot and post-war a successful businessman and Chairman of the RAF Escaping Society. He was best known for being one of the three men to successfully escape from Stalag Luft III in the escape known as The Wooden Horse which was featured in a 1950 movie of the same name.
A pre-war member of Oxford University Air Squadron, on the outbreak of war Philpot was called-up and joining 42 Squadron flew the Bristol Beaufort and took part in the Norwegian Campaign in 1940. He was awarded the Distinguished Flying Cross and on 11 December 1941 Philpot took off in Beaufort O – Orange for an attack on a German convoy off Norway. During the mission, the aircraft was shot down by German anti-aircraft fire and ditched in the North Sea. Philpot and the other three crew evacuated the plane and took to the dinghy. After two days in the dinghy, they were picked up by a German naval vessel being made POW and his escaping adventures, as recounted in this book, began.
A very scarce signed copy of a vintage, collectable RAF escaper book which would make a great companion to 'The Wooden Horse'.