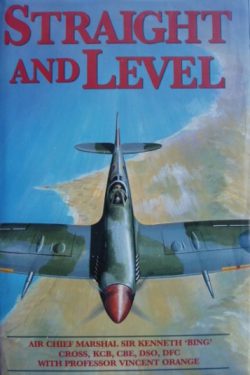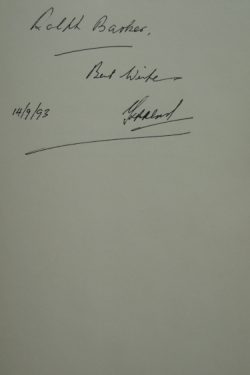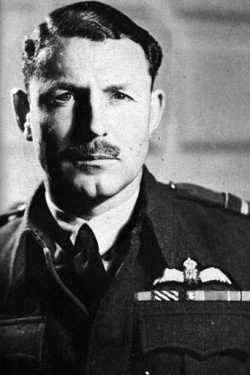 STRAIGHT and LEVEL
Air Chief Marshal Sir Kenneth Cross KCB CBE DSO DFC
Signed by Sir Kenneth 'Bing' Cross
Signed by Air Chief Marshal Sir Kenneth "Bing" Cross
dated 14/9/93 on the front end paper

This book belonged to Ralph Barker the noted aviation author (1917-2011).
Barker joined the RAF in WWII, flying with 47 and 39 Squadrons on Beaufort Torpedo
missions against shipping from bases in North Africa and Malta.

Grub Street  First edition 1993,  306 pages with photographs
Fine condition hardback book with red boards and gilt titles with a Fine condition dustjacket. A lovely copy of this book
Kenneth `Bing' Cross joined the RAF in 1930 flying the Hawker Fury with 25 Squadron at Hawkinge and was a member of the aerobatic team which performed at Hendon in 1933 with its wings tied together.
The outbreak of war found him as the CO of 46 Squadron flying Hurricanes which took part in the Norwegian campaign and covered the Allied evacuation during which HMS Glorious was sunk with Cross and his men and aircraft aboard.  Squadron Leader Cross, as he then was, jumped overboard, climbed onto a raft, and with a few others miraculously survived more than 70 hours afloat in Arctic waters, though Cross himself became seriously ill.
During the Battle of Britain, still unfit for flying duties, he served in 12 Group Operations Room under Air Vice-Marshal Leigh-Mallory until in December 1940 he was given command of 252 Fighter Wing in the Middle East.  After further high level appointments, including C-in-C Bomber Command,  he retired in 1968 and died in 2003
A fascinating read about a career packed full of incident and a scarce signed book.