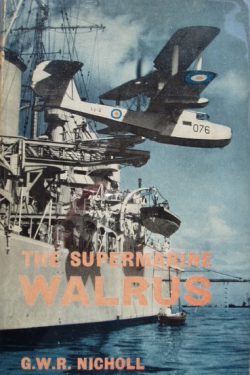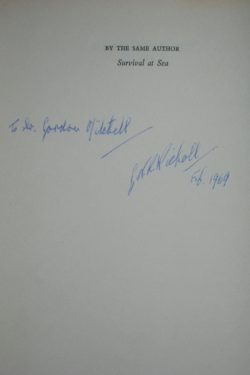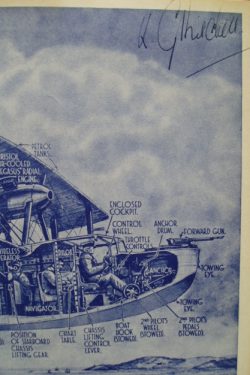 The Supermarine WALRUS
The story of a unique aircraft
Mitchell Association copy
Sold
From the collection of Spitfire designer RJ Mitchell's son, Dr Gordon Mitchell, 
Inscribed & signed by the author, Lt Cdr GWR Nicholl OBE RN 
To Dr Gordon Mitchell,
GWR Nicholl,
Feb 1969

+
Signed by Gordon Mitchell on the pictorial front end paper
GT Foulis & Co Ltd first edition 1966.  211 pages and well illustrated with photos and informative appendices and cutaway diagrams on the endpapers.
Near Fine condition hardback book with a Near Fine condition unclipped dustjacket.  An excellent and pleasing copy.
The development and operational history of one of the most versatile aeroplanes ever built, the Vickers Supermarine Walrus.
Designed by RJ Mitchell, famous for the Spitfire and Schneider trophy winners , its service life was long and it performed a great variety of military tasks in WWII.  A true amphibian, it was catapulted from ships, lurched aloft off breaking seas or staggered into the air from jungle strips, landed on lagoons, icefloes and scrubland; it dive bombed, reconnoitred, fought and achieved an astonishing record of rescue work.
This lively book about the old 'Shagbat' was written by a man who flew them for 8 years and was CO of 700 Squadron and is a fitting tribute to a 'noisy old crate' which was held in great affection by countless servicemen.
A unique association copy of this scarce book.