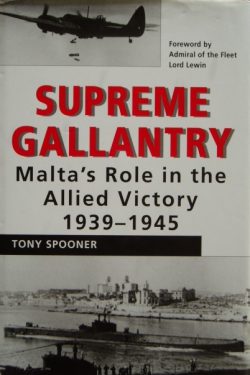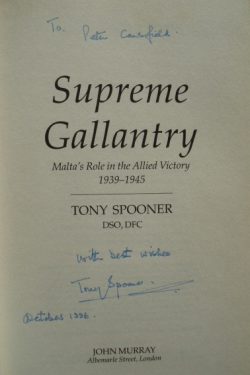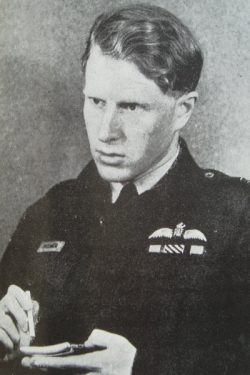 SUPREME GALLANTRY
Malta's Role in the Allied Victory 1939 -45
Signed by Wing Commander Tony Spooner DSO DFC
Inscribed, signed and dated by Tony Spooner on the title page
Author & veteran Malta pilot
John Murray. First Edition 1996.  258 pages and well illustrated with photos.
Fine condition hardback book and Fine condition unclipped dustjacket.  Clean, bright and tight, an excellent copy.  It comes with a publisher's press release, a newspaper clipping about the author and this book and a brief biography of Spooner from the George Cross Island Association.
Tony Spooner was an outstanding wartime RAF pilot, serving in Malta where he commanded Luqa's Special Duties Flight, and on anti U boat patrols in the Atlantic before embarking on an equally distinguished post-war career as an airline pilot with BOAC. He wrote several books on Malta and its outstanding personalities and was Vice President of the George Cross Island Association.
The first detailed account of the attacks made from Malta during the Second World War, an island of immense strategic importance to the British and their allies. Had Malta fallen then Rommel would have had all the supplies he needed to threaten the vital oil fields of Egypt. From this British Mediterranean bastion, bombers, submarines and surface ships continuously attacked the German and Italian supply train, sinking scores of enemy ships.
After Rommel was beaten in North Africa, Malta became the springboard for the invasion of Italy and Hitler spared nothing in his counter-attacks, moving U-boats from the Atlantic and a million troops from the Russian front.
The author, who took part in these attacks, recalls the deeds of the Royal Navy and RAF, the role of ULTRA, and the courage of the people of Malta itself.
An interesting, comprehensive and well written book about the vital part played by Malta in WWII.