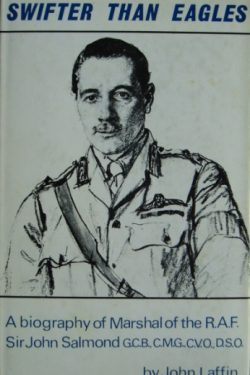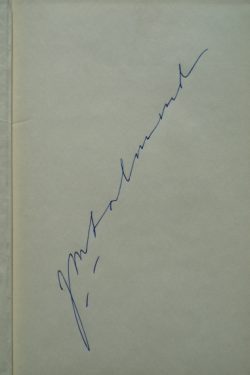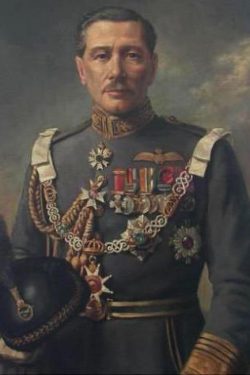 SWIFTER than EAGLES
A Biography of MRAF Sir John Salmond GCB CMG CVO DSO
Signed by Sir John Salmond
Sold
Signed by MRAF Sir John Salmond on the front end paper
Comes with handwritten letter signed informally as 'Jack', dated 1964, which concludes with
'My best wishes and I trust this volume may interest you'.
Plus an original publisher's flyer promoting the book. See pictures below
William Blackwood First edition 1964. 278 pages and well illustrated with photos.
Fine condition hardback book and dustjacket. Clean, tight and bright.
John 'Jack' Salmond spent 10 years in the army but finding the life of an infantry officer on garrison duty somewhat lacking he decided to learn to fly.  Gaining RAeC Certificate No 272 in August 1912, he then joined the first course at the CFS where on graduating he was immediately appointed to the staff as an instructor.  This was followed by a posting to Farnborough where he was involved in some early test flying, particularly of the SE4. 
Major Salmond was the Commanding Officer of one of the first four RFC Squadrons sent to France on the outbreak of WW1 and within four years his energy, courage and exceptional ability had raised him to the rank of Major General and at the age of 36 he commanded the RFC and then the RAF on the Western Front.
After the war, a succession of high commands ultimately led him to succeed Lord Trenchard as Chief of the Air Staff and as this biography recounts, he was one of the great and enduring figures that did so much to establish and shape the Royal Air Force. He died in 1968.
A scarce signed book from one of the RFC's first squadron commanders who went on to become one of the most important and influential senior officers in the history of the RAF.
Click a picture to enter gallery.