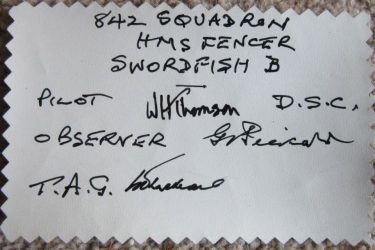 SWORDFISH Swatch ~ Atlantic Convoys
Genuine signed swatch of Swordfish fabric to raise funds for Navy Wings
Signed by a Swordfish crew who protected the Atlantic Convoys
SWORDFISH TRIBUTE SERIES OF SIGNATURES
Swatch of genuine Swordfish fabric signed by
Sub-Lt.(A) W.H. 'Tommy' Thomson, DSC ~ Pilot
 Sub Lt.(A)  G.V  'Curly' Pickard ~ Observer
Petty Officer M.A. 'Andy' Thackeray ~ TAG (Telegraphist Air Gunner)
This edition was produced to help raise the awareness of the crucial role that the Swordfish played in helping to win the Battle of the Atlantic.
The swatch is signed by three members (Pilot, Observer and TAG) of one crew who flew together in 842 Squadron from the Escort Carrier H.M.S. Fencer.
Over the first two days of May 1944, this crew, whilst protecting Convoy RA59 from H.M.S. Fencer, were credited with the sinking of 3 U-boats, 2 with depth charges and 1 with rockets.
The pilot, 'Tommy' Thomson, provided some of his original photographs which are used on the certificate to show the unbelievable weather conditions which they had to face on a daily basis.
SWORDFISH TRIBUTE SERIES OF SIGNATURES
Begun in 2002, this project has so far raised over £30,000 to keep the Fairey Swordfish in the air. These swatches 0f Irish linen fabric were removed from the Fairey Swordfish operated by the Royal Navy Historic Fight (now Navy Wings) during restoration. Each historic swatch has been signed by distinguished wartime Swordfish veterans who were thrilled to be able to help keep their beloved 'Stringbag' flying just by signing their name. Each swatch comes with a print showing memorabilia, photos and newspaper cuttings pertaining to the action.
Each print size is approximately 40 cm x 26 cm
Each swatch is approximately 9 cm x 6 cm of Irish Linen fabric removed from the port aileron of Swordfish W5858. Each print/swatch will be sent in a cardboard tube.
All money raised will go to Naval Wings (formally The Royal Navy Historic Flight) to help keep the Swordfish in the air where she belongs.
Last few remaining. All proceeds go to Navy Wings
Price:  £ 55 + postage 
This item is listed on ACE
To purchase or discuss this item with the seller, click HERE