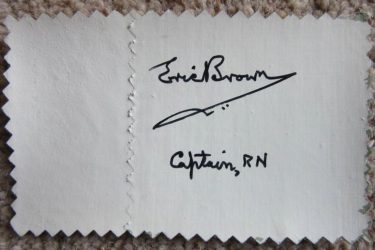 SWORDFISH Swatch ~ Eric 'Winkle' Brown
Genuine signed swatch of Swordfish fabric to raise funds for Navy Wings
Signed by Captain Eric 'Winkle' Brown
SWORDFISH TRIBUTE SERIES OF SIGNATURES
Swatch of genuine Swordfish fabric signed by
Captain Eric 'Winkle' Brown CBE DSC AFC MA FRAeS RN
 Distinguished Test Pilot
Eric flew every major (and most minor) combat aircraft of WWII as well as all of the early jets.  As a German speaking airman, he went to Germany in 1945 to test the Nazi jets and rocket aircraft and interviewed Herman Goering and Hanna Reitch.
He was decorated more times than any other British test pilot and Fleet Air Arm pilot. He had a world record of 2,407 deck landings to his credit, including many world 'firsts'. He also recorded more catapult launches than any other pilot. Extensive research indicated that he had flown more types of aircraft than any other pilot in the world, and certainly the most astonishing assortment. He was Chief Naval Test Pilot at RAE Farnborough, and became the first naval officer to command the world renowned Aerodynamics Flight, which was regarded as the top post in experimental research test flying.
Eric Brown's autobiography is titled 'Wings on my Sleeve'
He also wrote 'Wings of the Navy' and 'Wings of the Luftwaffe' as well as several other volumes.
SWORDFISH TRIBUTE SERIES OF SIGNATURES
Begun in 2002, this project has so far raised over £30,000 to keep the Fairey Swordfish in the air. These swatches 0f Irish linen fabric were removed from the Fairey Swordfish operated by the Royal Navy Historic Fight (now Navy Wings) during restoration. Each historic swatch has been signed by distinguished wartime Swordfish veterans who were thrilled to be able to help keep their beloved 'Stringbag' flying just by signing their name. Each swatch comes with a print showing memorabilia, photos and newspaper cuttings pertaining to the action.
Each print size is approximately 40 cm x 26 cm
Each swatch is approximately 9 cm x 6 cm of Irish Linen fabric removed from the port aileron of Swordfish W5858. Each print/swatch will be sent in a cardboard tube.
All money raised will go to Naval Wings (formally The Royal Navy Historic Flight) to help keep the Swordfish in the air where she belongs.
Last few remaining. All proceeds go to Navy Wings
Price:  £ 45 + postage 
This item is listed on ACE
To purchase or discuss this item with the seller, click HERE