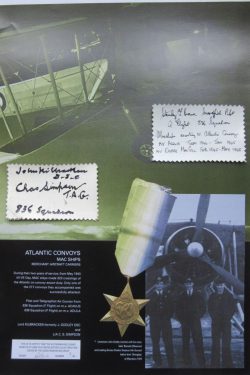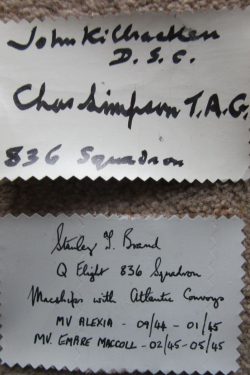 SWORDFISH Swatch ~ MAC Ships
Genuine signed swatches of Swordfish fabric to raise funds for Navy Wings
Signed by Swordfish Aircrew who protected Atlantic Convoys from MAC Ships
SWORDFISH TRIBUTE SERIES OF SIGNATURES
Swatches of genuine Swordfish fabric signed by
Sub Lt.(A) John Kilbracken DSC (Lord Kilbracken) ~ Pilot
 L/A Charles Simpson ~ TAG (Telegraphist Air Gunner)
Sub Lt.(A) Stanley Brand ~ Pilot

Few people are aware of the invaluable part played in the Battle of the Atlantic by MAC Ships.
These were Merchant Aircraft Carriers – converted Grain Ships or Oil Tankers which had had their superstructure replaced by a flight deck to accommodate (usually) 3 Swordfish and, sometimes, a flight of fighter aircraft. Thus, the convoy had constant air protection, even in the middle of the Atlantic, with minimum reduction in cargo transport, for the MAC Ships still carried the grain or oil etc. in their holds. As you might expect, conditions were tough…… many had no hangars.
When Lord Kilbracken was asked for his help, he immediately roped in his TAG, who lived in Canada. Thus, rather poignantly, each of the swatches for this edition has crossed the Atlantic in both directions!
John Kilbracken's autobiography is titled  'Bring Back My Stringbag'
Stanley Brands's autobiography is titled 'Achtung Swordfish'

SWORDFISH TRIBUTE SERIES OF SIGNATURES
Begun in 2002, this project has so far raised over £30,000 to keep the Fairey Swordfish in the air. These swatches 0f Irish linen fabric were removed from the Fairey Swordfish operated by the Royal Navy Historic Fight (now Navy Wings) during restoration. Each historic swatch has been signed by distinguished wartime Swordfish veterans who were thrilled to be able to help keep their beloved 'Stringbag' flying just by signing their name. Each swatch comes with a print showing memorabilia, photos and newspaper cuttings pertaining to the action.
Each print size is approximately 40 cm x 26 cm
Each swatch is approximately 9 cm x 6 cm of Irish Linen fabric removed from the port aileron of Swordfish W5858. Each print/swatch will be sent in a cardboard tube.
All money raised will go to Naval Wings (formally The Royal Navy Historic Flight) to help keep the Swordfish in the air where she belongs.
Last few remaining. All proceeds go to Navy Wings
Price:  £ 65 + postage 
This item is listed on ACE
To purchase or discuss this item with the seller, click HERE