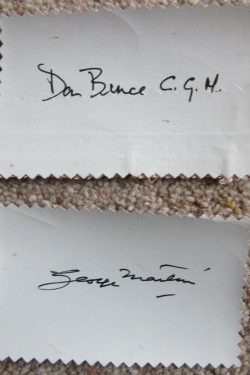 SWORDFISH Swatch ~ Training
Genuine signed swatches of Swordfish fabric to raise funds for Navy Wings
Signed by two distinguished Swordfish Aircrew
SWORDFISH TRIBUTE SERIES OF SIGNATURES
Swatches of genuine Swordfish fabric signed by
Leading Airman Donald A Bunce CGM
 The only Swordfish TAG to survive the Channel Dash operation and won the CGM
Sir George Martin CBE
Swordfish Observer who later found fame as a record producer
On the 24th May 1941, three days before his 20th birthday, Leading Airman Donald A. Bunce was a Telegraphist Air Gunner (TAG) in the back of a Swordfish attacking the mighty Bismarck with torpedoes. 8 months later, he won his Conspicuous Gallantry Medal for his role in the ill-fated "Channel Dash" incident – the gallant attempt to destroy the German ships Scharnhorst, Gneisenau and Prince Eugen. All six aeroplanes were destroyed and Don was the only surviving TAG.
Once he had recovered from his injuries, he was sent to Trinidad to train Observers in Air Gunnery and Navigation. Amongst his pupils, on the 73rd Observer Course was 18 year old Midshipman (A) George Martin.
Many years later, having qualified as an Observer to fly in Swordfish, George Martin was to become known worldwide for something very different…… as the highly talented music producer who was known as 'The Fifth Beatle'.
When contacted, Sir George Martin said how honoured and humbled he was about sharing this edition of this series with Don….a man for whom he had the utmost admiration and respect. Understandably, Don could not recall the 18 year old Midshipman!
Don Bunce's account of the Channel Dash can be found in the book 'TAG on a Stringbag'  by Les Sayer and Vernon Ball.
SWORDFISH TRIBUTE SERIES OF SIGNATURES
Begun in 2002, this project has so far raised over £30,000 to keep the Fairey Swordfish in the air. These swatches 0f Irish linen fabric were removed from the Fairey Swordfish operated by the Royal Navy Historic Fight (now Navy Wings) during restoration. Each historic swatch has been signed by distinguished wartime Swordfish veterans who were thrilled to be able to help keep their beloved 'Stringbag' flying just by signing their name. Each swatch comes with a print showing memorabilia, photos and newspaper cuttings pertaining to the action.
Each print size is approximately 40 cm x 26 cm
Each swatch is approximately 9 cm x 6 cm of Irish Linen fabric removed from the port aileron of Swordfish W5858. Each print/swatch will be sent in a cardboard tube.
All money raised will go to Naval Wings (formally The Royal Navy Historic Flight) to help keep the Swordfish in the air where she belongs.
Last few remaining. All proceeds go to Navy Wings
Price:  £ 75 + postage 
This item is listed on ACE
To purchase or discuss this item with the seller, click HERE