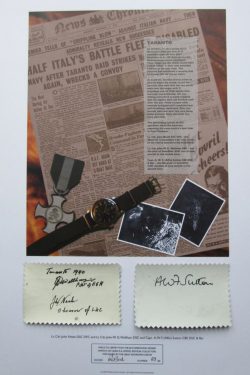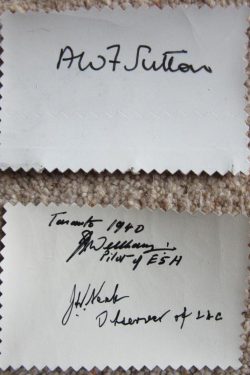 SWORDFISH Swatch ~ TARANTO
Genuine signed swatches of Swordfish fabric to raise funds for Navy Wings
Signed by Swordfish Aircrew who attacked Taranto
SWORDFISH TRIBUTE SERIES OF SIGNATURES
Swatches of genuine Swordfish fabric signed by
Lt Cdr. John W.G.Welham DSC
 Pilot of  Swordfish E5H, one of 9 aircraft in the second wave
Lt. Cdr. John Neale DSC DFC
Observer in Swordfish L4C, one of the 12 aircraft in the first wave
Capt. A.W.F. 'Alfie' Sutton CBE DFC*
Observer in Swordfish L5K, another of the 9 aircraft in the second wave
At 20.35 hrs. on the evening of 11 November 1940, the first of 21 Swordfish took off from H.M.S. Illustrious to fly 200 miles across the Mediterranean in the moonlight. Their target was the Italian battle fleet tucked 'safely' in their well defended harbour at Taranto, Italy. The planners had estimated a casualty rate of at least 50% for the 42 air crew. The TAGs had been left behind to make way for a 100 gallon oil drum full of the extra petrol needed for the long flight which 'sat' in the open cockpit next to the observer.
At 22.56 hrs. the first of the two waves of aircraft began to attack. In the 10 minutes over the target they had sunk two battleships and left a third so badly crippled that the repairs were not finished until after the war. Three cruisers were severely damaged and a seaplane base and an oil refinery destroyed. Only two aircraft were lost; two crew were taken prisoner, but sadly, the other two were killed. The astounding success of this operation led to the Japanese repeating the same tactics a year later at Pearl Harbour.
John Welham's autobiography, 'With Naval Wings', was published in 1995.
John Neale's autobiography, 'The Incredible Stringbag and Me', was published in 1997
Alfie Sutton's biography, 'Seven Seas, Nine Lives' was published in 2006.
SWORDFISH TRIBUTE SERIES OF SIGNATURES
Begun in 2002, this project has so far raised over £30,000 to keep the Fairey Swordfish in the air. These swatches 0f Irish linen fabric were removed from the Fairey Swordfish operated by the Royal Navy Historic Fight (now Navy Wings) during restoration. Each historic swatch has been signed by distinguished wartime Swordfish veterans who were thrilled to be able to help keep their beloved 'Stringbag' flying just by signing their name. Each swatch comes with a print showing memorabilia, photos and newspaper cuttings pertaining to the action.
Each print size is approximately 40 cm x 26 cm
Each swatch is approximately 9 cm x 6 cm of Irish Linen fabric removed from the port aileron of Swordfish W5858. Each print/swatch will be sent in a cardboard tube.
All money raised will go to Naval Wings (formally The Royal Navy Historic Flight) to help keep the Swordfish in the air where she belongs.
Last few remaining. All proceeds go to Navy Wings
Price:  £ 75 + postage 
This item is listed on ACE
To purchase or discuss this item with the seller, click HERE