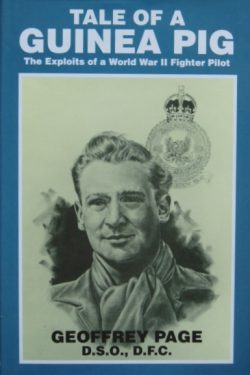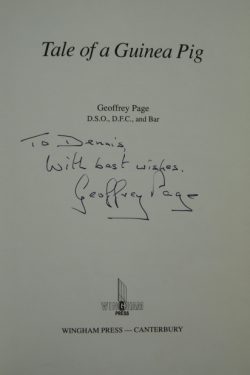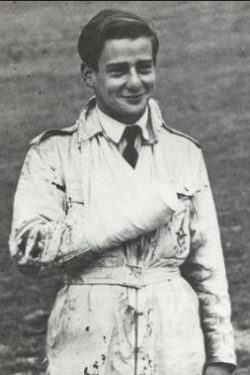 TALE of a GUINEA PIG
The exploits of a World War II Fighter Pilot
Signed by Wg Cdr Geoffrey Page DSO DFC
Signed by Geoffrey Page on the title page
This book was a presentation copy to Wing Commander Dennis Jackson OBE DL and comes with an interesting associated letter on Bank of England notepaper
Wingham Press 1991 Second Edition.  221 pages with photos and illustrations.
Fine condition hardback book in blue boards, with a Fine condition clipped dustjacket.  Clean, bright and tight.
Stories by fighter pilots of their experiences, especially during the Battle of Britain, have been numerous. With this thought in mind, Geoffrey Page has written a book that not only tells of his wartime exploits but also dwells on the mental effects of severe injuries to a pilot, both during his hospital treatment and on his return to flying duties.
Shot down during the Battle of Britain with horrific burns, he spent 2 years under the care of Sir Archibald McIndoe and was a founder member of the famous Guinea Pig Club. Page returned to the skies and finished the war a triple ace.  ACM Sir Christopher Foxley-Norris said 'Even by Battle of Britain standards, he was the bravest of the brave.'
After the war Page founded the Battle of Britain Trust which raised over £1 million for the Capel-le-Ferne Memorial which sits on the cliffs of Dover.  Geoffrey Page wrote 'It was an exciting, dangerous game. To be young, to be paid to fly a beautiful, fast aeroplane, to combat one's wits and skills against an equivalent young man was to live (or die) with every fibre of one's being….I would not want to change one moment of those wonderful, youthful years.' 
A lovely signed copy of this classic book, an essential volume for any aviation library.