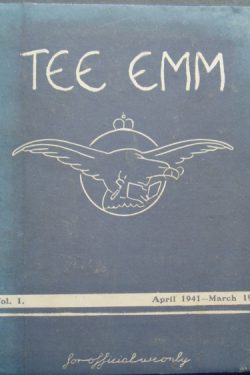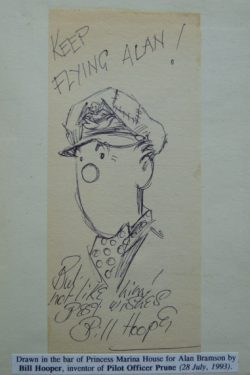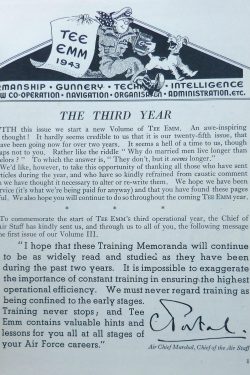 TEE EMM
Training Memoranda ~ Complete bound original set
Signed by Bill Hooper
Sold
The Complete Original Wartime set of TEE EMM bound into 5 volumes
Original Pilot Officer Prune cartoon attached to the first page of Vol 1
'Keep flying Alan – but not like him!
Best wishes
Bill Hooper'
This set of books belonged to the aviation author Alan Bramson and the cartoon was drawn for him by Bill Hooper in 1993
A rare complete original record of the spirit of the Royal Air Force in the Second World War in the original publisher's bindings. 
Published by the Air Ministry between 1941- 1946.  Five hardback volumes in quarter cloth binding over paper covered boards. Each volume comprises the 12 monthly magazines, each running to about 24 pages, giving a total of around 290 pages per volume complete with index. 
The volumes are all in Very Good condition, clean, tight and square with solid bindings. There is  some minimal rubbing and fading to the covers. Internally, the pages are bright and clean throughout.
Volume 1 ~ April 1941 – March 1942
Volume 2 ~ April 1942 – March 1943
Volume 3 ~ April 1943 – March 1944
Volume 4 ~ April 1944 – March 1945
Volume 5 ~ April 1945 – March 1946
On 1 April 1941, the Royal Air Force began publishing a new training booklet titled 'TEE EMM' (short for training memoranda). Introduced in the first issue was a certain Pilot Officer Percy Prune, created by staff artist Bill Hooper.
With losses from training accidents mounting, the RAF was anxious to find a means of bringing flight safety issues home to the young and inexperienced aircrew who made up much of the RAF's front-line strength. The style of the new magazine was to be witty and easily readable. It needed illustrations, and the publishers seized on the dim-witted, bonehead Prune as the perfect example of how not to do things. Prune used humour to demonstrate how to handle situations -the wrong way.  P/O Prune came up with catchy expressions such as, 'A good landing is one you can walk away from' and was rapidly promoted from thumbnail sketch fillers to a major element of the magazine's message. Written in part serious, part humorous style, important messages about safety, flying by the rules, maintenance etc with a touch of irreverence and cartoon drawings,  the many real life accounts and examples make these magazines very readable even today 80 years later.
A rare chance to add a complete, bound set of TEE EMM to a library, enhanced by an original drawing of P/O Prune.