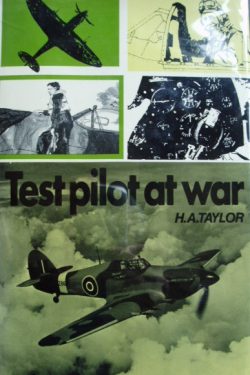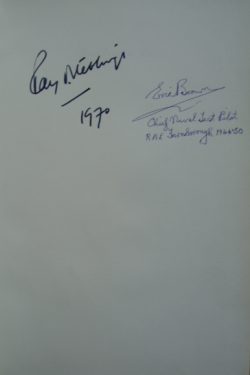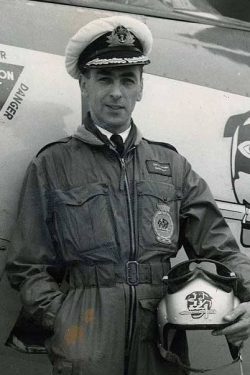 TEST PILOT at WAR
Impressions of 25 interesting WWII RAF aircraft
Signed by Captain Eric 'Winkle' Brown RN
Signed by Captain Eric 'Winkle' Brown on the title page
Chief Naval Test Pilot
RAE Farnborough 1944-50
and previous owner, Ray Stebbings a WWII RAF Mustang pilot with 234 Squadron
Ian Allen First edition 1970. 144 pages and well illustrated with photographs and illustrations.
Fine condition hardback book in a Fine condition dustjacket. A lovely copy in all respects.
The author, HA Taylor,  joined the embryonic ATA before the start of WWII and after a year or two of ferrying a variety of types up and down the country, he transferred into the RAF, becoming a test pilot at 48 Maintenance Unit at Hawarden which gave him access to more exotic hardware.
This book is a record of impressions and incidents flying aircraft which saw service with the RAF during WWII and include; Harvard, Battle, Blenheim, Hurricane, Swordfish, Gladiator, Lysander, Oxford, Whitley, Hudson, Anson, Airacobra, Wellington, Liberator, Fortress, Master, Hampden, Boston, Mosquito, Beaufighter and Spitfire.
Eric Brown, one of Britain's greatest test pilots, flew every major (and most minor) combat aircraft of WWII as well as all of the early jets.  As a German speaking airman, he went to Germany in 1945 to test the Nazi jets and rocket aircraft and interviewed Herman Goering and Hanna Reitch.
He was decorated more times than any other British test pilot and Fleet Air Arm pilot. He had a world record of 2,407 deck landings to his credit, including many world 'firsts'. He also recorded more catapult launches than any other pilot. Extensive research indicated that he had flown more types of aircraft than any other pilot in the world, and certainly the most astonishing assortment. He was Chief Naval Test Pilot at RAE Farnborough, and became the first naval officer to command the world renowned Aerodynamics Flight, which was regarded as the top post in British experimental research test flying.
A fascinating signed book for anyone who would have loved to fly some of these amazing aircraft.