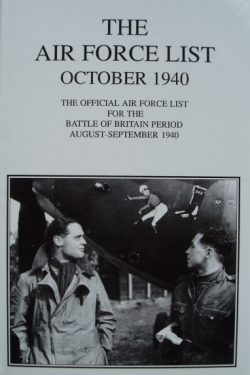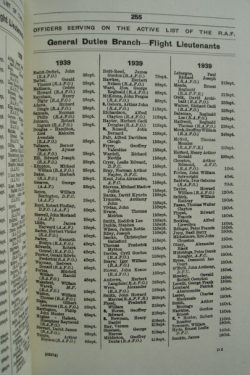 The AIR FORCE LIST ~ October 1940
The Official list for the Battle of Britain ~ August-September 1940
First published 1940 by HMSO.  This edition published by JB Hayward and Son 1990.  Over 1000 pages including an alphabetical list of names with dates of seniority.
Fine condition hardback book in a Fine condition dustjacket.  Almost as new.
This official book was republished to coincide with the 50th anniversary of the Battle of Britain.  It lists the commissioned officers and warrant officers of the RAF and other related personnel who served during the critical period, August – September 1940. The whole work is referenced by a nominal index.
During WWII, the classified official lists were often destroyed on receipt of the periodic updated version and consequently wartime editions are quite rare.  This republished volume is identical to the original, except that it is a hard cover rather than a paper one and it is a invaluable book for reference and research purposes as well as providing a tribute to 'The Few'.