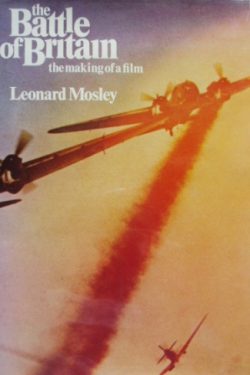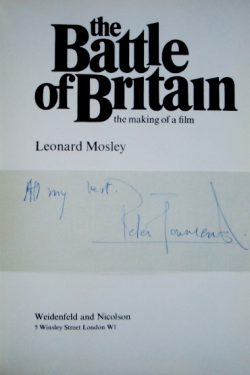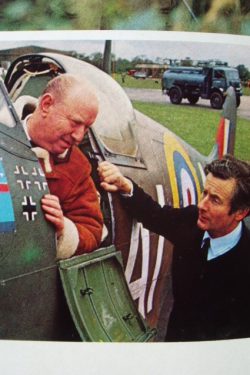 The BATTLE of BRITAIN
The Making of a Film
Signed by Group Captain Peter Townsend
Slip signed by Peter Townsend tipped into the title page
All my best
Peter Townsend
Weidenfeld & Nicolson First edition 1969.  207 pages and very well illustrated with over 100 photographs, mainly from the film set and 16 colour stills from the film.
Very Good condition hardback book with a Very Good condition bright dustjacket which has a few neat repairs but looks  good in its protective wrapper.  A tidy copy of this very scarce book.
This is the original story of the making of the famous movie combined with the dramatic events of 1940. 
Group Captain Peter Townsend CVO DSO DFC* was one of the distinguished Battle of Britain pilots employed as consultants on the film and at the same time he was finishing his epic account of the Battle of Britain 'Duel of Eagles' which was also published in 1969. Chapter 9 of this book is titled 'Enter Townsend and Snowdon' and the picture above shows Peter Townsend and fellow consultant 'Ginger' Lacey checking out a Spitfire on the film set.
The author spent weeks on location with the various film units in both England and Spain. He tells of the myriad difficulties encountered in obtaining aircraft and facilities; trouble with the stars, tensions with the pilots, political pressures and the recurring financial crises.  How these problems were overcome makes a story as gripping as the amazing scenes of aerial combat that are the hallmark of this classic movie.
 A nice copy of this very scarce hardback book with a neat Townsend signature.  It's hard to believe that the film was released nearly fifty-five years ago……