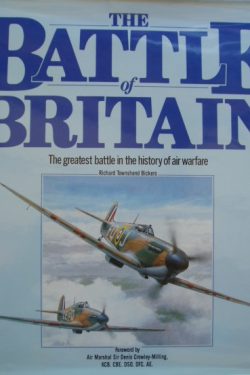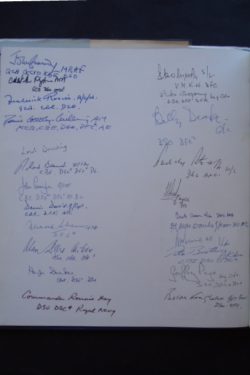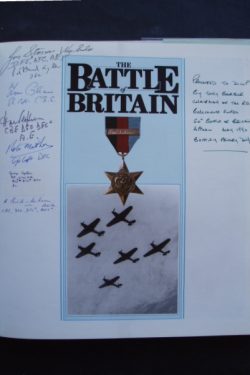 The BATTLE of BRITAIN
The greatest battle in the history of air warfare
Multi-signed by 30 Battle of Britain Fighter Pilots
Sold
JUNE ~ *BOOK OF THE MONTH*
There are some aviation books that are so rare and highly sought after by collectors
from all over the world that it would be unfair to sell such a book on a 'first come' basis.
Therefore, each calendar month, Spitfire Books is offering a rare book for sale
and invites collectors to submit a 'best offer' during the month by email or telephone
---
Presentation copy signed by 30 Battle of Britain Aircrew
Presented to DWP by (Lord) Tony Barber, Chairman of the RAF Benevolent Fund's
50th Battle of Britain Appeal, May 1990, Bentley Priory Dinner

Sir John Grandy, Sir Christopher Foxley-Norris, Sir Fred Rosier, Lord Derek Dowding
Roland Beamont, John Cunningham, Dennis David, Des Sheen, Alan Deere, Sir Hugh Dundas,
Ronnie Hay, Boleslaw Drobinski, Sticks Gregory, Billy Drake, Paddy Barthropp, Ivor Cosby
Buck Casson, DS Macdonald, BH Bowring, Pete Brothers, Geoffrey Page, Brian Kingcome
HM Stephen, Jas Storrar, Pat Hancock, Tom Gleave, Peter Matthews, Denys Gillam (label), Birdy Bird-Wilson
Salamander First Edition, 1990.  208 pages.  Lots of photos, some in colour, diagrams, maps, graphics and colourfully presented information.
Very Good condition hardback book and Very Good condition dustjacket.  Square format, measuring approximately 11 x 11 inches.
In this engaging volume, a team of distinguished authors and historians describe the greatest air battle in history; the events leading up to it, the history, structure and equipment of the RAF and Luftwaffe, the critical events and the exploits of the leading aces. There is a full roster of all the RAF Battle of Britain Aircrew.
Chapters include: Prelude to the Battle, Aircraft of the RAF, Aircraft of the Luftwaffe, Support Teams, Battle Tactics, Battle Day of an RAF Pilot, Battle Day of a Luftwaffe Pilot, Battle Diary & RAF Heroes.
An excellent book for dipping into and enhanced by an outstanding collection of signatures. 
Click any picture to see the signatures………….