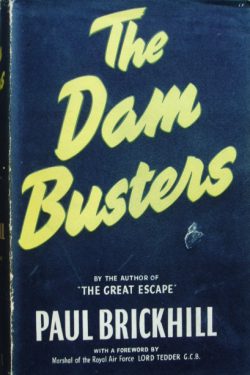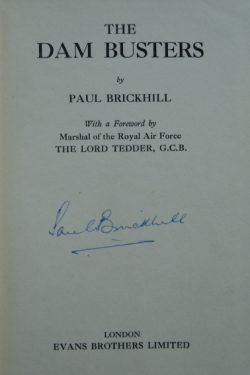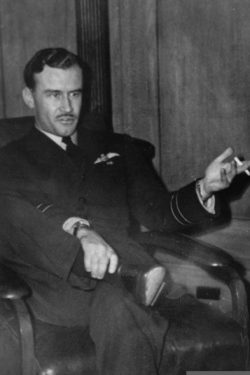 The DAM BUSTERS
Dambusters 80th Anniversary 1943 ~ 2023
Signed by Paul Brickhill
Sold
MAY     ~    *BOOK OF THE MONTH*
There are some aviation books that are so rare and highly sought after by collectors
from all over the world that it would be unfair to sell such a book on a 'first come' basis. 
Therefore, each calendar month, Spitfire Books is offering a rare book for sale
and invites collectors to submit a 'best offer' during the month by email or telephone
---
Signed on the title page by 
Paul Brickhill
Evans First Edition, second printing (before publication) 1951.  263 pages and well illustrated with photographs, diagrams and maps.
Very Good condition hardback book.  It is clean, bright and square with a sturdy binding.   The dustjacket is also Very Good, unclipped with some rubbing and some wear at the edges and the corners but with no loss.  It looks smart in its protective cover.
This is one of the most famous books to come out of WWII telling the story of 617 Squadron, originally formed for just one special job but that epic affair made the RAF's newest squadron also its finest, the 'special duties squadron'.  They were unique; a chosen band of skilful volunteers, using special weapons doing unusual and perilous tasks and winning 2 VCs and over 150 other decorations – this is their story told in intimate detail by Paul Brickhill who had already written the best seller 'The Great Escape' and was to complete his epic WWII trilogy with 'Reach For The Sky'.
Paul Brickhill was an Australian journalist who did his flying training in Australia, Canada and England under the Empire Air Training Scheme before being assigned to 92 Squadron equipped with Spitfires and part of the Desert Air Force in North Africa.
On 17 March 1943, he was shot down over Tunisia and became a prisoner of war.  He was sent to Stalag Luft III, in Silesia, 150 km southeast of Berlin, arriving there on 4 April 1943. Brickhill became involved with the escape organisation, initially as a lookout before volunteering to work as a digger on the "Tom" tunnel. He developed claustrophobia, and as a result was reassigned and put in charge of security for the forgers. Because of his claustrophobia and the risk that he would panic and block the escape of others behind him, he was not allowed to take part in "The Great Escape".
Following the announcement of the murder of the escapees who had been recaptured following the Great Escape, Brickhill became determined to document the event. Discussing the subject with fellow prisoner Conrad Norton, they identified that many of their fellow prisoners had other tales of daring escapes, and that they could provide the possibility of publishing a book after the war. As Brickhill had been involved in "The Great Escape", he concentrated on that story, while Norton collected individual tales. As prisoners were forbidden from writing anything other than letters and postcards, they collected every piece of paper they could find and, writing in as small a hand as possible, they collected stories and hid them from the guards.
After the war, Brickhill returned to journalism, working as a London-based correspondent for Associated Newspapers. Meanwhile outside of working hours he had typed up his and Norton's stories and the manuscript was accepted by Faber & Faber and published as 'Escape to Danger' in 1946.
Brickhill's three best known works, 'The Great Escape', 'The Dambusters' and 'Reach for the Sky' were each turned into blockbuster films and together with the books did much to shape the public's perception of the RAF's participation in WWII.
A very scarce and collectable signed copy of this classic book.