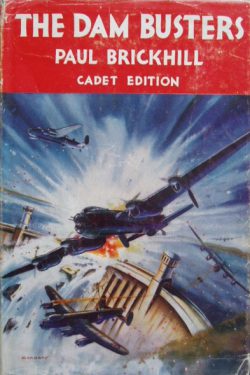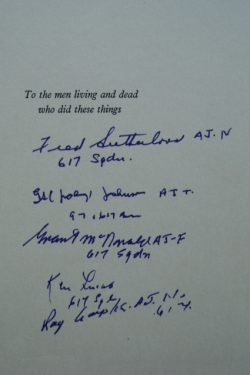 The DAM BUSTERS
by Paul Brickhill
Signed by Dambusters
Sold
Signed on the dedication page by
Fred Sutherland ~ Front gunner AJ-N
'Johnny' Johnson ~ Bomb aimer AJ-T
Grant McDonald ~ Rear gunner AJ-F
Ken Lucas ~ 617 Groundcrew
Ray Grayston ~ Flight engineer AJ-N
Evans Brothers Cadet Edition, reprint 1959.  190 pages and illustrated with photographs
A Very Good condition hardback book.  It is clean and bright with a very sturdy binding. The dramatic dustjacket is also Very Good, clipped with some minor chips at the top and bottom of the spine.
This is one of the most famous books to come out of WWII telling the story of 617 Squadron, originally formed for just one special job but that epic affair made the RAF's newest squadron also its finest, the 'special duties squadron'.  They were unique; a chosen band of skilful volunteers, using special weapons doing unusual and perilous tasks and winning 2 VCs and over 150 other decorations – this is their story told in intimate detail by Paul Brickhill who had already written the best seller 'The Great Escape' and was to complete his epic WWII trilogy with 'Reach For The Sky'.
An unusual edition of this classic book with a neat collection of signatures.