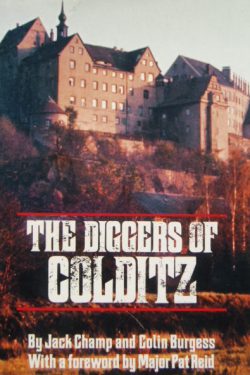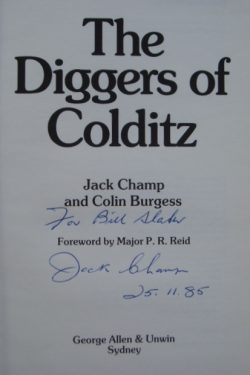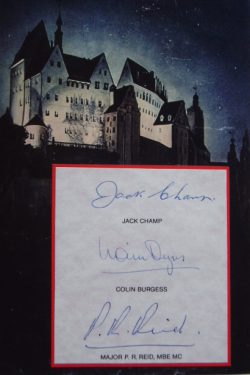 The DIGGERS of COLDITZ
Australian POWs in Colditz
Signed by Lieutenant Jack Champ & Major Pat Reid
Signed by Lieutenant Jack Champ on the Title Page
Pictorial bookplate signed by Jack Champ, Colin Burgess and
Major Pat Reid MBE MC
Orbis First Edition, 1985.   224 pages, lots of photos and Colditz plans on the endpapers.
Near Fine condition unmarked hardback book and dustjacket.  Clean, tight and feels unread.
In June 1943, Jack Champ was marched into Colditz after two previous escapes, the first of 19 Australians to be incarcerated there and this book is the first to look at life there specifically from their point of view.  In this book, the authors explain what it was like to be a POW in Germany and Colditz in particular.
Pat Reid contributed the foreword to this book and was the first British Escape Officer at Colditz Castle.  The men imprisoned in Colditz were an elite, the 'bad boys' who had a history of escaping from at least one POW camp and had been recaptured.  The seemingly impregnable medieval fortress built on a cliff edge, moated, wired, floodlit, with more guards than prisoners was the German's answer to these problem prisoners.  Yet there were over 300 escape attempts at Colditz in the four and a half years of its war history, and Pat Reid himself completed a 'Home Run' in 1942.
Eminently readable, this book is for anyone with an interest in Colditz and has been enhanced with some collectable signatures.