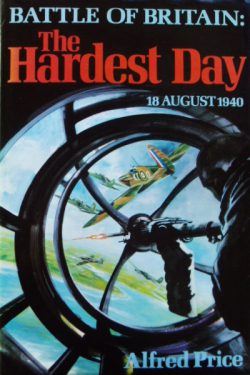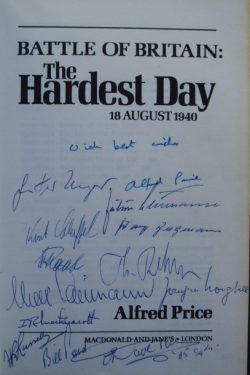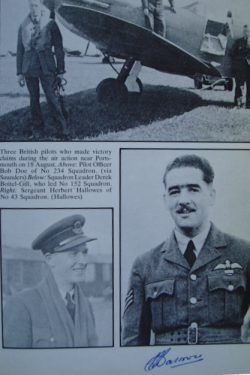 The HARDEST DAY
18th August 1940
Multi-Signed by Battle of Britain Pilots
Sold
NOVEMBER     ~    *BOOK OF THE MONTH*
There are some aviation books that are so rare and highly sought after by collectors
from all over the world that it would be unfair to sell such a book on a 'first come' basis. 
Therefore, each calendar month, Spitfire Books is offering a rare book for sale
and invites collectors to submit a 'best offer' during the month by email or telephone
---
Signed on the title page by the author and RAF & Luftwaffe aircrew
who fought on the 'Hardest Day' of the Battle of Britain
Luftwaffe
Unteroffizier Günther Unger ~ 9/KG76 Do17 Pilot
Leutnant Kurt Scheffel ~ 1/StG 77  Ju87 Stuka Pilot
Feldwebel Wilhelm Raab  ~ 9/KG76 Do17 Pilot
Feldwebel Max Schümann  ~ 9/KG76 Do17 Radio Operator
Oberleutnant Julius Neumann  ~ 2/JG27  Bf109 Pilot
Unteroffizier Franz Bergmann  ~ 9/KG76 Do17 Radio Operator
Unteroffizier Theo Rehm  ~ 2/KG76 Do17 Observer
Leutnant Joachim Köpsell  ~  1/ZG26 Bf110 Pilot
RAF
Flying Officer Innes Westmacott ~ 56 Squadron Hurricane Pilot
Flight Lieutenant AR Russell  ~ 32 Squadron Hurricane Pilot
Flight Sergeant Bill Pond  ~ 601 Squadron Hurricane Pilot
Pilot Officer Dave Glaser  ~ 65 Squadron Spitfire Pilot
Sergeant Jim Hallowes ~ 43 Squadron Hurricane Pilot
Published by Macdonald & Janes.  First edition, first impression 1979.  223 pages and well illustrated with photographs.
Very Good condition hardback book in a Very Good condition dustjacket.
This is a detailed and descriptive narrative which covers the 24 hours of August 18th 1940 as seen through the eyes of scores of British and Germans who took part in the air fighting or those on the ground who became involved, unwittingly or otherwise.  This day is considered to be the hardest fought day when 68 British and 69 German aircraft were destroyed, a combined loss greater than on any other day.
All but one of the signatories are featured in the book which must have been signed at a launch event. This incredible collection of relevant signatures makes this a unique and highly collectable book for any Battle of Britain library.