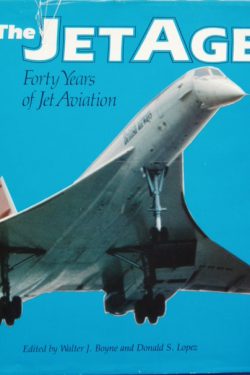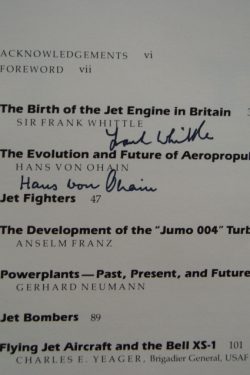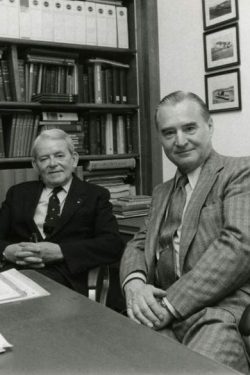 The JET AGE
Forty Years of Jet Aviation
Signed by Sir Frank Whittle & Hans von Ohain
Signed on the Contents page by jet engine pioneers
Sir Frank Whittle
Hans von Ohain

Smithsonian Institution Press. First edition, 1979.    190 pages with lots of photos, diagrams and drawings
Very Good condition hardback book with a Good condition dust jacket showing some edge wear and some closed repaired tears.  It looks smart in its protective cover.
This collection of essays is compiled from lectures presented at a symposium held on Oct 26, 1979 and sponsored by the Air & Space Museum. They were written by a group of people uniquely qualified to discuss their subject as they were either the original pioneers of jet aviation or those who developed it during its first four decades.
Chapters include:
The Birth of the Jet Engine in Britain by Sir Frank Whittle
The Evolution and Future of Aeropropulsion Systems by Hans Von Ohain
Jet Fighters by Boyne & Lopez
The Development of the Jumo 004 Turbojet Engine by Anselm Franz
Jet Bombers by Boyne & Lopez
Powerplants-Past, Present and Future by  Gerhard Neumann
Flying Jet Aircraft and the Bell XS-1 by Chuck Yeager
The First Forty Years of Jet Aviation by Najeeb E Halaby
Jet Airliners by Boyne & Lopez
Jet Aviation Development by John E Steiner
An interesting and scarce book with the two highly collectable signatures of the jet pioneers.  It is sobering to consider that it now forty years since the publication of this book to celebrate the first forty years!