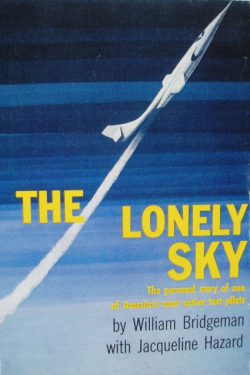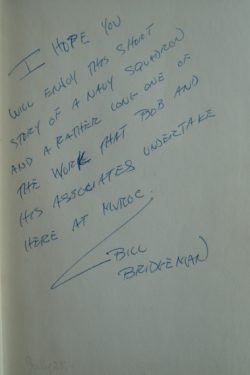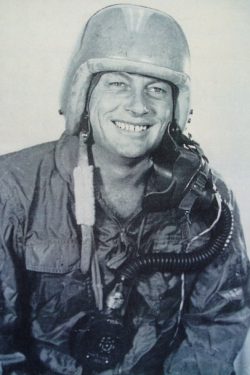 The LONELY SKY
The story of the test pilot who flew the Douglas Skyrocket
Presentation copy signed by Bill Bridgeman
Sold
Inscribed and signed on the front-end paper by
Bill Bridgeman
" I hope you will enjoy this short story of a Navy Squadron
and a rather long one of the work that
Bob and his associates undertake here at Muroc
Bill Bridgeman"
One of the photos in the book is hand annotated by Bridgeman and the photo shows him with fellow Douglas
record setting test pilots Bob Rahn, George Jansen and Jim Verdin in front of an F4D Skyray.
Henry Holt First Edition, second printing May 1955.  316 pages and well illustrated with photos.
Fine condition hardback book with two tone blue & black boards with silver gilt titles. Clean, bright and tight.  The dustjacket is also in Fine condition, unclipped with only the lightest of rubbing.  A truly excellent copy of this classic book
From the dustjacket: "The personal story of one of America's most active test pilots. This is the powerful and often thrilling story of a man who daily enters that lonely region beyond the speed of sound. A narrative of needle-nosed ships flying at blistering speeds, it is also the moving testament of a man risking his life to push back the frontiers of scientific knowledge. Like St.-Exupery, Bridgeman is capable of describing the vastness and beauty of the skies. But as America's foremost experimental test pilot, he is constantly aware of the multitude of technical information which he is called upon to use at any given instant"
William B. Bridgeman (1916-68) began his career flying B-24s in the Pacific air war and after a short post-war career as an airline pilot, seeking action, he joined Douglas Aircraft as an engineering test pilot. Soon he was asked to take over the final stages of the Skyrocket testing program. The Skyrocket, a javelin-shaped experimental ship, was a challenge to Bridgeman. The story of his day-by-day life with the plane is the substance of THE LONELY SKY.
In 1951 flying the Skyrocket, Bridgeman set world speed and altitude records of Mach 1.88 and 79,494 feet.  He disappeared in 1968 flying over the Pacific ocean and his body was never found.
This is a classic 'Test Pilot' memoir, one of the first American ones, and it has been reprinted many times over the years.  A signed copy is really scarce and will appeal to anyone with an interest in the record breaking research flights of the post-war period.