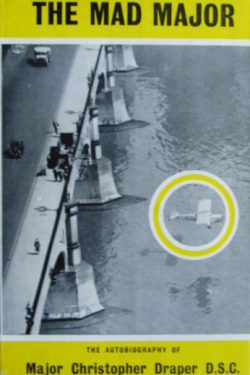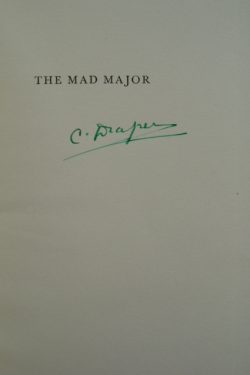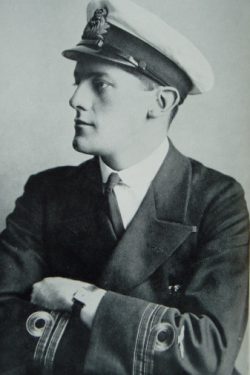 The MAD MAJOR
By Major Chistopher Draper DSC
Signed by Christopher Draper
Sold
Signed by Christopher Draper

on the half title page
(in characteristic green ink)
Air Review first edition 1962. 231 pages with lots of photos.
A Fine condition hardback book with a Fine condition unclipped dustjacket.  This book looks and feels practically as fresh as the day it was printed so it's a superb copy in all respects.  It comes with an original advance publicity flyer for the book which indicates that it may have been an early review copy.
This is the autobiography of Christopher Draper, known to thousands as "The Mad Major" for his daring flight under Tower Bridge in 1931 and for his even more spectacular exploit in May 1953, when, at the age of 61, he flew under 15 bridges between Waterloo and Kew. During his flying career, he logged 17000 hours in 73 types of aircraft and died in 1979.
Lured into the air in the early, exciting days of flying, the author rubbed shoulders with such pioneers as Alcock and Hinkler, and with men like Salmond and Dowding who afterwards became top-ranking RAF Officers. He had a distinguished career in World War I commanding N0 8 Naval Squadron and was decorated in March 1918.
Between the wars he was involved in stunt flying, acting and a bewildering variety of jobs both in the air and on the ground. Few people can lay claim to such an range of past activities as the Mad Major including a half-hour talk with Hitler and being invited to spy for the Germans though he was actually a double agent for M.I.5. Although 47 years old at the outbreak of World War II, the author immediately enlisted in the Fleet Air Arm and commanded an anti-submarine squadron.
A unique life, recounted in a humorous and readable style.  A great signed copy of this collectable aviation book.