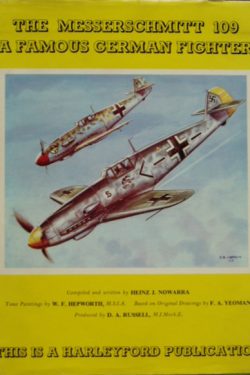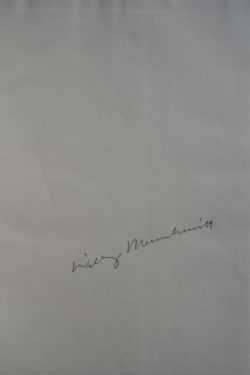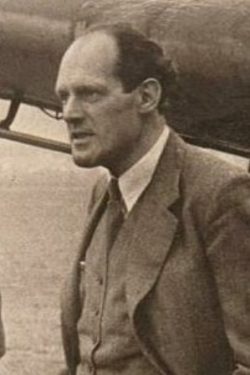 The MESSERSCHMITT 109
A Famous German Fighter
Signed by Willy Messerschmitt
Price: Serious offers invited until 29th February 2020
FEBRUARY ~ *BOOK OF THE MONTH*
There are some aviation books that are so rare and highly sought after by collectors
from all over the world that it would be unfair to sell such a book on a 'first come' basis.
Therefore, each calendar month, Spitfire Books is offering a rare book for sale
and invites collectors to submit a 'best offer' during the month by email or telephone
---
Signed on the front end paper by

 
Willy Messerschmitt
Harleyford Publications Ltd. First edition 1963.  184 pages crammed full of black and white photographs, drawings and colour plates.
Fine condition hardback book in green covers with a Fine condition dust jacket.  Clean, bright and tight. Neat bookplate on inside front cover signed and dated by Derek Mason a former RAF & commercial pilot and noted aviation book collector.  A superb condition copy of this classic volume. The large blank area above the signature would be perfect for a pencil Remarque by a top aviation artist to create a truly exceptional book.
This book is not only the story of a famous German fighter-aircraft, it is also the story of a great aircraft designer, Willy Messerschmitt. To some considerable extent it is also a history of the German fighter-force in WWII. It tells the story of the development of the Messerschmitt factory,  it describes the connection between Messerschmitt and the Nazi party and recounts the exploits of the leading Bf 109 German fighter-aces. Along with the background historical events  the book covers the detailed development of the fighter aircraft with drawings and photographs of the well-known series of the Bf 109, but also the experimental versions, forerunners of the series and never-realised projects.
It was conceived as an interceptor, although later models were developed to fulfil multiple tasks, serving as bomber escort, fighter-bomber, day, night, all-weather fighter, ground-attack and reconnaissance aircraft. It served with several countries during and for many years after the war. The Bf 109 is the most produced fighter aircraft in history, with a total of 33,984 airframes produced from 1936 to April 1945. The Bf 109 was flown by the three top-scoring German fighter aces of World War II, Hartmann, Barkhorn & Rall, who claimed 928 victories among them while flying with JG 52.
Wilhelm Emil 'Willy' Messerschmitt  (1898 – 1978) was a German aircraft designer and manufacturer. In 1934 he designed the Messerschmitt Bf 109, which became the most important fighter aircraft in the Luftwaffe as Germany rearmed prior to World War II.  Another Messerschmitt aircraft, first called "Bf 109R", purpose-built for record setting, but later re-designated Messerschmitt Me 209, broke the absolute world airspeed record in 1939 and held the world speed record for propeller-driven aircraft until 1969. Messerschmitt's firm also produced the first jet-powered fighter to enter service — the Messerschmitt Me 262.
Books signed by Willy Messerschmitt are exceptionally scarce and what better book to have signed? This would be an important addition to any aviation library.