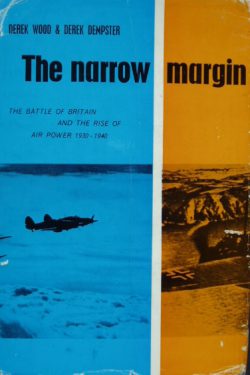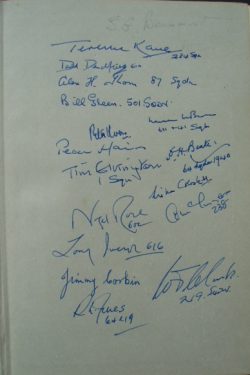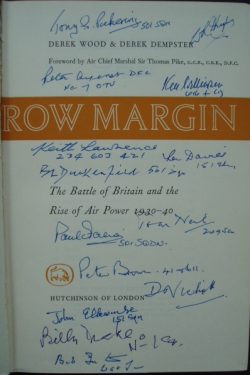 The NARROW MARGIN
The Battle of Britain and the rise of Air Power 1930-1940
Multi-Signed by 31 of 'The Few'
Sold
Personal annotated copy of Stephen Beaumont 609 Squadron Battle of Britain
Multi-Signed by 31 RAF Battle of Britain aircrew on the first and title pages
Stephen Beaumont, Terence Kane, David Denchfield, Alex Thom, Bill Green, Norman Brown, Peter Olver, Peter Hairs,
Percy Beake, Tim Elkington, Mike Croskell, Nigel Rose, Archie McGregor, Tony Iveson, Jimmy Corbin, Terry Clark,
Richard Jones,  Tony Pickering, Bob Hughes, Peter Ayerst, Ken Wilkinson, Keith Lawrence,  Len Davies,
Byron Duckenfield, Tom Neil, Paul Farnes, Peter Brown, Doug Nicholls,  John Ellacombe, Billy Drake, Bob Foster 
Hutchinson & Co First edition 1961.   536 pages and well illustrated with photos and maps.
Very Good condition hardback book in a Very Good condition dustjacket which is edge worn and has reinforcement but looks smart in a protective cover. The book has Beaumont's ownership signature at the top of the front end paper in pencil and  there are copious neat margin notes on many pages relevant to 609 Squadron's part in the Battle. 
This was the first attempt at an comprehensive and authoritative account of the events leading up to the Battle of Britain and of the Battle itself. It gives a day by day summary of events and important and useful appendices which incudes all the group, station and squadron commanders and a list of The Few.
This is a fantastic collection of Battle of Britain signatures in a very appropriate book which actually belonged to one of the Few.