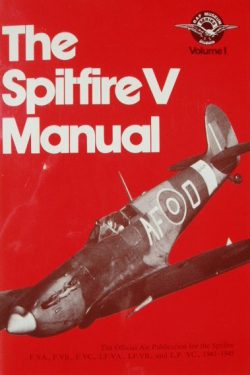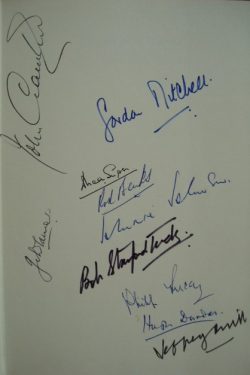 The SPITFIRE V Manual
Official Air Publication for the Spitfire Mk V variants 1941~45
Multi-signed
Price: Serious offers invited until 30th September 2019
SEPTEMBER ~ *BOOK OF THE MONTH*
There are some aviation books that are so rare and highly sought after by collectors
from all over the world that it would be unfair to sell such a book on a 'first come' basis.
Therefore, each calendar month, Spitfire Books is offering a rare book for sale
and invites collectors to submit a 'best offer' during the month by email or telephone
---
To mark the launch of this book and its companion volume on the Hurricane II in May 1976,
the RAFM organised a Hurricane/Spitfire Symposium and this book was signed on that occasion
Signed on the front end paper by:
John Crampton ~ RAF pilot & Hawker Siddeley
Dr Gordon Mitchell ~ Son of Spitfire designer RJ Mitchell
Duncan Simpson ~ RAF Pilot & Hawker Chief Test Pilot
Air Cdre Rod Banks ~Engineer and fuel technology expert
Jeffrey Quill ~ Spitfire Chief Test Pilot
AVM Johnnie Johnson ~ Top Scoring RAF Fighter Ace
Wg Cdr Bob Stanford Tuck ~ Battle of Britain Fighter Ace
Philip Lucas ~ Hawker Chief Test Pilot
Sir Hugh Dundas ~ Battle of Britain Fighter Ace
RAF Museum Series Volume 1. Published by Arms & Armour Press 1976.  300+ pages, full of diagrams and pictures reproduced from the technical manuals.
Fine condition book and Fine condition, price-clipped dustjacket. Clean, bright and tight in a protective wrapper. An excellent copy in all respects.
The Spitfire V was the third major production type of the breed to see service with the RAF.  It entered service in March 1941 and over 6000 aircraft were produced until production ended in October 1943.  It served in every operational area and it is generally regarded as the classic of the 'pure' Spitfire – the epitome of the breed before the more muscular versions appeared.
Originally published by the Air Ministry, this book is an authentic reprint of the actual workshop manual used by RAF personnel who flew and maintained the Spitfire V.  It contains all the essential technical details, pilot handling notes, instructions for groundcrew, construction and wiring data and with over 170 illustrations this is an essential reference source.
A wealth of information on the Spitfire, especially if you intend to restore one or even just build an accurate model, with a great collection of signatures.