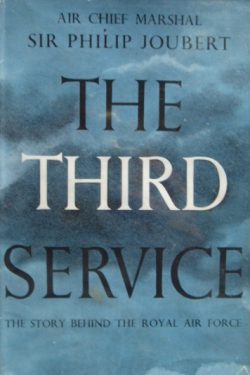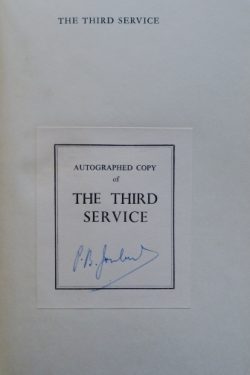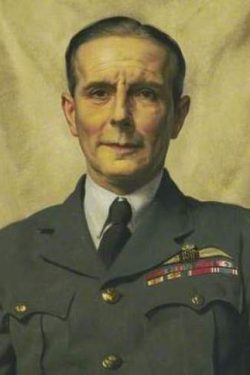 The THIRD SERVICE
The Story Behind the Royal Air Force
Signed by Air Chief Marshal Sir Philip Joubert
Sold
Publisher's Bookplate signed by Philip Joubert mounted on the half title page
Thames & Hudson First Edition 1955.  274 pages and well illustrated with photographs and portrait plates of senior officers.
Very Good hardback book. Clean, tight and bright.  A Very Good dustjacket with a bit of wear at the edges and corners but generally smart.
This is a readable and accurate history of the Royal Air Force, concentrating on many of the personalities who were responsible for its formation and operation in the early days and who were personally known to the author. It has a good review of the part played by Marshal of the RAF Lord Trenchard, who moulded the RFC and virtually created the RAF single-handed.
Air Chief Marshal Sir Philip Bennet Joubert de la Ferté, KCB CMG DSO (1887 – 1965) joined the British Army attending the Royal Military Academy Woolwich and gaining his commission in 1907. He served in the Royal Field Artillery, rising to the rank of Lieutenant. In 1913 he attended the Central Flying School and went on to serve in the Royal Flying Corps. With the outbreak of the First World War in 1914, he joined the British Expeditionary Force flying one of the first two operational sorties of the war. In 1915 Joubert was appointed Officer Commanding, No. 15 Squadron RFC. Later that year he took up command of No. 1 Squadron. As the war progressed, Joubert  commanded No. 33 Squadron and then several different wings. On 1 April 1918 Joubert transferred to the Royal Air Force in the rank of Lieutenant Colonel and by the end of hostilities in 1918 he had command of the Royal Air Force in Italy.
He had several commands between the wars and was a senior commander in the Royal Air Force during the Second World War including being Air Officer Commanding Coastal Command.
A useful non academic history of the RAF together with a good WWI and Senior Commander signature.