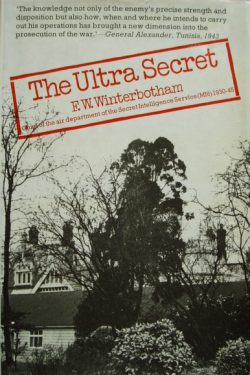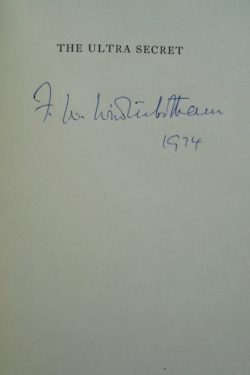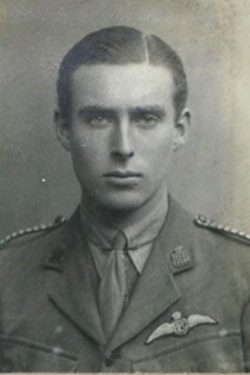 The ULTRA SECRET
The inside story of Ultra, Bletchley Park & Enigma
Signed by Group Captain FW Winterbotham CBE
Price: Serious offers invited until 31st May 2020
MAY ~ *BOOK OF THE MONTH*
There are some aviation books that are so rare and highly sought after by collectors
from all over the world that it would be unfair to sell such a book on a 'first come' basis.
Therefore, each calendar month, Spitfire Books is offering a rare book for sale
and invites collectors to submit a 'best offer' during the month by email or telephone
---
Signed & dated on the half title page by
Group Captain FW Winterbotham
1974

Weidenfeld & Nicolson First Edition, second impression 1974.  199 pages.
Very Good condition hardback book and dustjacket with some light foxing to the edges of the text block.
Frederick William Winterbotham CBE (1897-1990) was British secret-service official who played a key role in the ULTRA code-breaking project during World War II. Operation Ultra was designed to intercept and decode German signals sent using Enigma, the top-secret German cypher machine.
In 1917, Winterbotham was a fighter pilot on 29 Squadron in the RFC but was shot down, and as a prisoner of war he learned to speak German. Upon leaving the military he got a degree in law from Oxford and in 1929 he joined the MI6 as Chief of its Air Intelligence Department. In this capacity he often visited Germany in the 1930s, using a Foreign Office job as cover. By 1939 he had also helped develop a new method of aerial photo-reconnaissance that was very useful to the British in World War II. 
But it was his role in the Enigma/Ultra project that was so important to the Allied war effort and he revealed the story of the Ultra project for the first time to the general public in this book, 'The Ultra Secret' in 1974. Until the spring of 1974 there had been an official ban on any reference to Ultra material and this had had an inhibiting effect on the writing of WWII military history.
The impact of this book was extraordinary and showed the importance of how intelligence was received, decrypted and processed to Britain's survival in 1940 and 1941 and in the later victories.  It was Ultra intelligence that provided the key to Dowding's strategy in the Battle of Britain and later in defeating Rommel in North Africa and then in knowing the enemy's movements, strength and likely behaviour in Italy, the Pacific and Normandy. 
An exceptionally important WWII history book and a signed copy is a rare find.