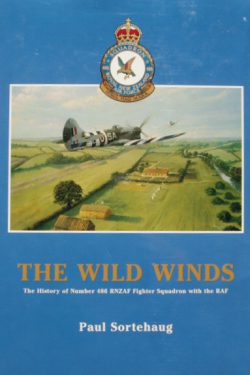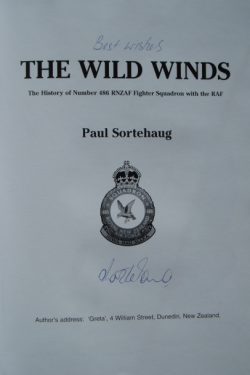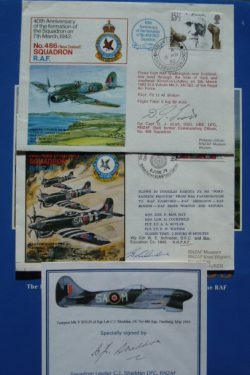 The WILD WINDS ~ 486 Squadron
The History of 486 (NZ) Fighter Squadron
Signed ephemera
Sold
Signed by the author + ephemera signed by
Three 486 Squadron Kiwi Commanding Officers
Group Captain DJ 'Des' Scott DSO OBE DFC ~

486 Sqn Cover 1982


Wing Commander WE 'Smokey' Schrader DFC* ~

486 Sqn Cover 1979


Squadron Leader CJ 'Jim' Sheddan DFC ~

Special Bookplate



Otago University Print First edition 1998.  396 pages and well illustrated with photographs. Very detailed appendices contain nominal rolls of all aircrew and ground crew attached to the squadron, individual aircraft histories, victory claims, COs, medals awarded, nicknames, bases and even some 'lineshoots' from the Squadron Linebook and the lyrics to some Squadron Hakas.
Fine condition hardback book in dark blue covers with gilt titles and a Fine condition unclipped dustjacket. This is a weighty volume (2 kg) with fantastic production standards and includes a full page colour reproduction of the Squadron crest and colour profiles of some of the squadron aircraft.  A superb copy of a very scarce book in all respects.
486 Squadron RNZAF was formed in England in 1942 and placed under RAF control.  During 3 years of operations it flew Hurricanes, Typhoons and the mighty Tempest in a variety of roles.  Its pilots flew over 11,000 sorties, claimed 81 enemy aircraft, (including two Me 262 jets) and destroyed 241 V-1 "flying bombs", plus countless vehicles, trains and ships. 
The book covers not only the detailed service and personal experiences of 486's pilots and groundcrew but also anecdotes and details of many other nationalities and distinguished personalities;  senior commanders such as Broadhurst, Embry, Hill and Saunders who were to some degree or other involved in the squadron's fortunes.
 A first class, comprehensive squadron history with the collectable signatures of 3 (of the 8) Squadron Commanding Officers.