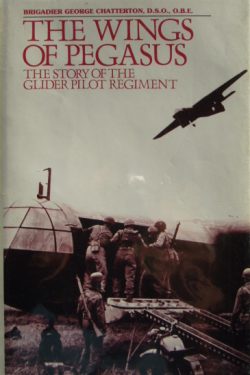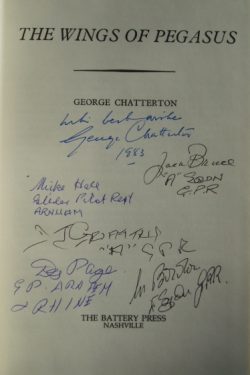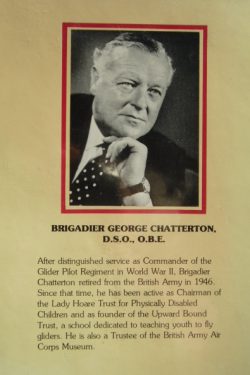 The WINGS of PEGASUS
The Story of the Glider Pilot Regiment
Multi-signed
Sold
Signed on the title page by
Brigadier George Chatterton

DSO OBE

and 5 Glider Pilot Regiment pilots
Jack Bruce ~ Mike Hall ~ Jack 'Griff' Griffiths ~ Des Page ~ Mike Brown
The Battery Press First US edition 1982. 282 pages and well illustrated with photographs.
Fine condition hardback book in red covers with silver gilt titles and red and white headbands.  Fine condition unclipped dustjacket. A super copy.
This is in part the memoir of George Chatterton (1912-87) but is also the story of the Glider Pilot Regiment which Chatterton founded, trained and led.  Chatterton began his career as an RAF pilot, a contemporary of Douglas Bader and Tubby Mermagen, and flew fighters with 1 Squadron at Tangmere until an accident ended his RAF career. He was in hospital at the same time as Bader and accompanied him on early outings with his tin legs.  As war loomed he joined the army, being part of the BEF in France and evacuated through Dunkirk.
Bored with home defence postings, he volunteered for the new Glider Pilot Regiment and soon became its CO. He decided that the Glider Pilot Regiment should produce men who were every bit as proficient in fighting on the ground as they were at flying in the air, and to this end he employed Drill Sergeants from the Brigade of Guards to oversee a thoroughly punishing training regime that would weed out all but the very best men. Chatterton's speech to the Regiment in 1942 rather summed up his approach: "We will forge this regiment as a weapon of attack… Not only will we be trained as pilots, but in all we do… I shall be quite ruthless… Only the best will be tolerated. If you do not like it, you can go back whence you came."
In all, the GPR landed some 2000 gliders in action; in Sicily, Normandy, Arnhem and the Rhine and then post-war continued operations until absorbed into the Army Air Corps. During the short span of its existence men of the regiment were awarded 135 decorations for valour.
The Wings of Pegasus is a stirring chronicle of the enterprise, skill and daring of a remarkable body of men. The author has collected in its pages the exciting records of numerous individual feats of arms by men under his command in a variety of dangerous and often bizarre situations.  Like so many incidents in British military history they are so often the stories of triumph over apparently insurmountable odds.
A fascinating and scarce signed book for any aviation or WWII library.