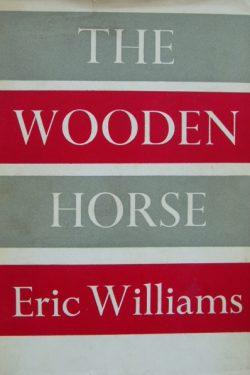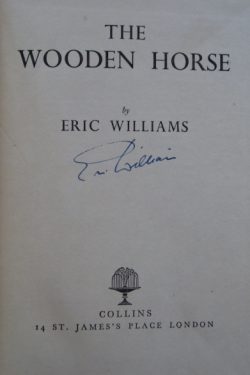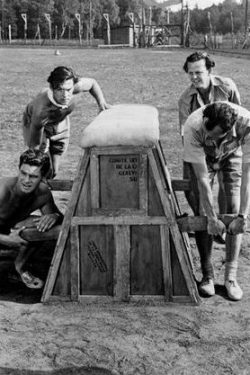 The WOODEN HORSE
The Classic World War II Story of Escape
80th Anniversary
Commemorating the 80th Anniversary of the 'Wooden Horse' Escape ~ 29 October 1943
Signed on the title page by
Eric Williams
Collins first edition, eleventh impression October 1949.  256 pages and illustrated with drawings.
Very Good condition hardback book complete with Very Good condition clipped dust jacket.  The pages are clean and the binding is sound. A very presentable copy in all respects.
Eric Williams MC (1911–1983) was an English writer and former Second World War RAF pilot and POW. He was the navigator of a 75 Squadron Stirling bomber (BK620) shot down on a bombing raid over Germany on 17/18 December 1942. He wrote several books dealing with his escapes from prisoner-of-war camps, most famously in his 1949 novel 'The Wooden Horse', made into a 1950 movie of the same name.
In this novelisation of the true events, the story of the ingenious and daring escape from Stalag Luft III by Williams and his two companions has rightly become one of the most famous books to emerge from the Second World War.
A classic and collectable signed book about an event that happened exactly 80 years ago.