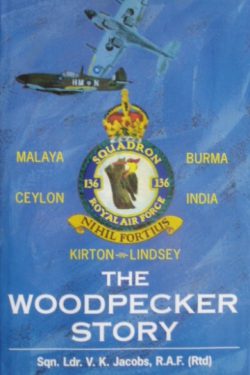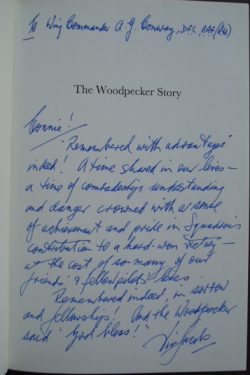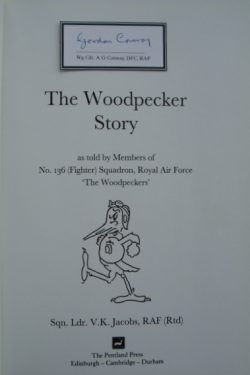 The WOODPECKER STORY ~ 136 Squadron
A History of 136 Squadron Royal Air Force
The personal copy of Wing Commander Gordon Conway
Sold
Presentation copy to

Wg Cdr AG 'Connie' Conway DFC from 
Sqn Ldr VK Jacobs ~ Squadron founder member and author
To Wing Commander AG Conway DFC RAF (Rtd)
Connie!
'Remembered with advantages' indeed!
A time shared in our lives – a time of comradeship, understanding and danger crowned
with a sense of achievement and pride in Squadron's contribution to a hard won victory – at the cost
of so many of our friends and fellow pilots' lives.
Remembered indeed, in sorrow and fellowship! And the Woodpecker said 'God Bless!'
Viv Jacobs
The book comes with a Gordon Conway signature and a handwritten card
from Connie's daughter explaining the provenance of the book.
Published by The Pentland Press. First edition 1994.  260 pages with plenty of photographs, illustrations and press cuttings.
Very Fine condition hardback book and Very Fine condition unclipped dustjacket. As new.
Written by Viv Jacobs, a pilot and a founding member, this is the history of the famous 136 Squadron known as, 'The Woodpeckers'. From its formation at Kirton-in-Lindsey in 1941 under the command of Battle of Britain pilot Sqn Ldr TAF Elsdon through its posting to the Far East theatre, it served with distinction for 4 years until it was disbanded in May 1946.
In its short life span, The Woodpecker Squadron became the highest scoring squadron in South East Asia Command Theatre of Operations being officially credited with over 100 enemy aircraft destroyed and a further 150 probables and damaged.  Gordon Conway was the Squadron's top ace with 7 victories.
A uniquely inscribed and signed squadron history giving a fascinating insight into a less well known but very harsh theatre of combat.