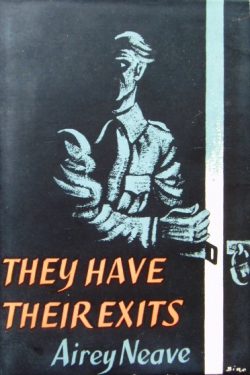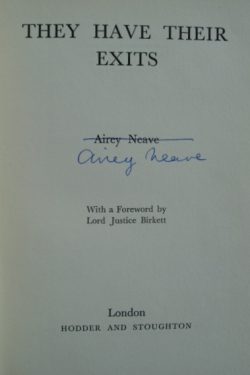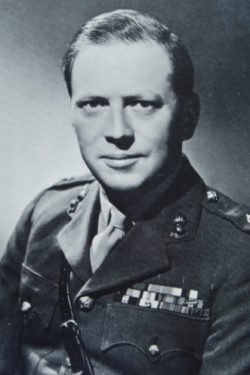 THEY HAVE THEIR EXITS
The Classic Escape Memoir of WWII
Signed by Lt Col Airey Neave DSO OBE MC
Signed by Airey Neave on the title page
Hodder & Stoughton First Edition, 5th impression May 1953.  192 pages with maps and a frontispiece portrait.
A Very Good condition hardback book with a reproduction dustjacket in a protective cover.  The book itself is clean, bright and tight.
Airey Neave, who as a Government Minister was tragically assassinated by the IRA in 1979, had the most distinguished of war records. Wounded and taken prisoner in the desperate fighting at Calais in 1940, he became a compulsive escaper.  He was the first British officer to successfully escape and make a 'home run' from the German prisoner-of-war camp Oflag IV-C at Colditz Castle. Hereafter he rejoined the fighting serving in France and Holland before becoming a member of the International Military Tribunal at the Nuremburg War Crimes trials. There he was to meet the most notorious members of the Nazi hierarchy as they faced justice and, in many cases, death.
For the quality of its writing and the breadth of its author's experiences, 'They Have Their Exits' is arguably the finest POW memoir to emerge from the Second World War, and one for which the sobriquet 'classic' seems wholly inadequate.
A rare signed copy of this excellent book for any WWII library.