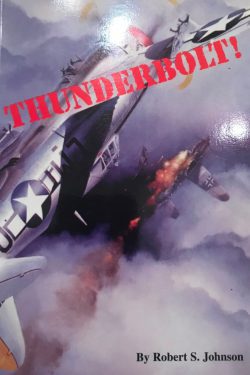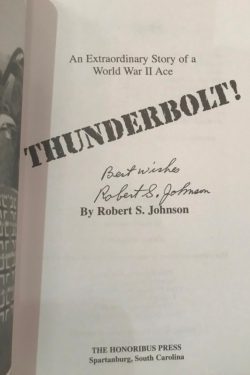 THUNDERBOLT !
An extraordinary story of a WWII Ace
Signed by Colonel Robert S. Johnson
 Signed on the title page by
 Robert S. Johnson
Altman Publishing 7th edition, card cover, mint condition
THUNDERBOLT ! is the story of a man and a fighter group in the deadly air war over Europe in World War II.
"When ROBERT S. JOHNSON returned from the European Theatre in 1944 he was the highest-scoring AMERICAN ACE of the war, with 28 confirmed kills against the fighter pilots of the Luftwaffe. The plane he flew was the Republic P-47C Thunderbolt, a rugged 2,000 horsepower fighter that weighed seven tons. British pilots told Johnson that the "JUG" wouldn't stand a chance against the maneuverable German ME-109 and the Focke Wulf 190 ! But in the hands of aces like JOHNSON and GABRESKI the Thunderbolt proved itself the most deadly fighter plane of the war."
The book was originally written in 1958 and tells the story of his career flying with WWII Legends like Hub Zemke, Gabby Gabreski and Dave Schilling to name a few. Robert Johnston died in 1998.
Price:  £ 40
This item is listed on ACE
To make an offer or discuss this item with the seller, click HERE
NB. This book is located in Canada so postage cost should be considered.