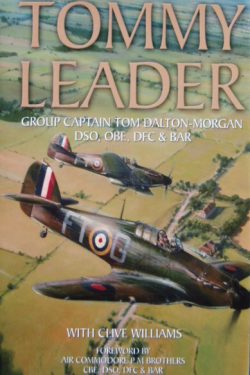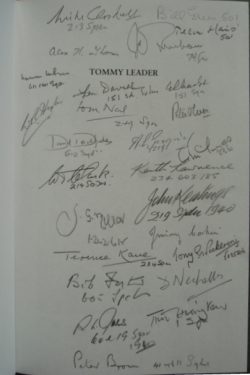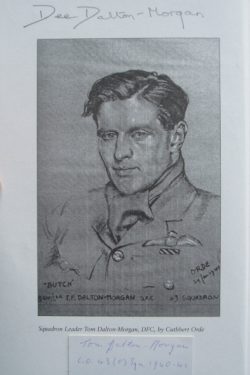 TOMMY LEADER
Group Captain Tom Dalton-Morgan DSO OBE DFC*
Multi-signed by Battle of Britain Pilots
Signed at the book launch at Duxford, May 2007 and later
Special Edition 285/700 signed in pencil by 27 of 'The Few'
also signed by the author Clive Williams, Dee Dalton-Morgan and artist Robert Taylor
Mounted signature of Tom Dalton-Morgan, CO 43 (F) Squadron 1940-41
under his frontispiece portrait
Published by Griffon International. First edition 2007.  208 pages and well illustrated with photographs.
Fine condition hardback book in burgundy covers and Fine condition unclipped dustjacket. Clean, tight and bright. The book comes with a burgundy slipcase with gold gilt titles.
This is the biography of Tom Dalton-Morgan, a man who was determined to fly and achieved his ambition when he was accepted for pilot training by the RAF in 1934. He flew with 43 Squadron in the Battle of Britain and took command on 16th September 1940 a week after he was awarded his first DFC. In May 1941 he shot down 3 Luftwaffe bombers at night in a single-engine day fighter and was awarded another DFC.
He subsequently flew many occupations over Occupied Europe as leader of the Ibsley Wing, was shot down on four occasions, and finished the war with 14+ victories and nine British and foreign decorations. He retired from the RAF in 1952 when he moved to Australia to join the Weapons Research Establishment in Adelaide, eventually becoming the Range Controller at the Missile Testing Ground, Woomera. He reluctantly retired in 1982 alternating between Australia and England where he continued to attend many veterans reunions. He passed away in Australia in 2004 after spending much time with the author in preparing this book which was published nearly three years later along with the magnificent Robert Taylor painting which graces the dustjacket.
An excellent copy of a surprisingly scarce signed Battle of Britain memoir.