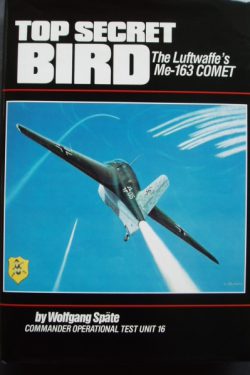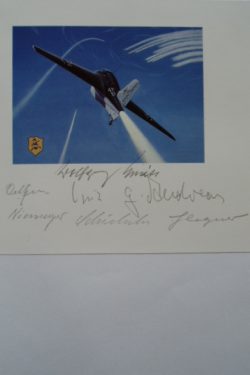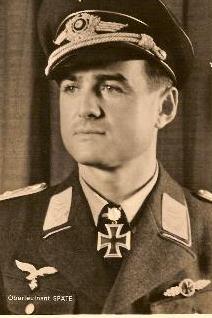 TOP SECRET BIRD
The Messerschmitt Me-163 Komet
Multi-Signed by Me-163 Pilots
Sold
Special Bookplate signed in pencil by Major Wolfgang Späte KC
+

Kurt Schiebeler ~ Me 163 pilot with a confirmed victory
Fritz Oeltjen ~ Battle of Britain Bf 109 pilot and Me 163 test pilot
Reinhard Opitz ~ Me 163 Fighter pilot
Gunther Andreas ~ Me 163 Fighter pilot
Rolf Glogner ~ Me 163 pilot with a confirmed victory
Adolf Niemeyer ~ Me 163 Fighter pilot
Published by Independent Books 1995. 270 pages and well illustrated with photos.
Very Fine condition hardback book and dustjacket. Clean, tight and unmarked.  Superb. 
This is a first hand account of how the Germans designed, constructed, tested and mass-produced a revolutionary aircraft. The author, Wolfgang Spate, an internationally famous gliding champion and successful WWII squadron commander, was uniquely qualified to command E-Kdo 16, the unit which tested the top secret Me-163 rocket powered fighter, designed by Alexander Lippisch. 
In May, 1944 Spate flew the first combat mission in this revolutionary aircraft but was soon sent back to Russia to gain 'more' command experience. In June, JG 400 entered combat but achieved poor results because the 30mm cannon installed in the Me-163 was aligned for an attack at a range of 500 metres… a point at which the pilot had to break off an attack to avoid collision!  Spate returned to command JG400 in December and quickly developed successful interception tactics but lack of fuel soon grounded the new fighter.  Spate ended the war flying the Me-262 jet fighter in which he added 5 victories to the 94 he had scored in the Me 109 and FW 190. This book is a history of the aircraft through a personal narrative of Wolfgang Spate which shows an in depth insight to the background of the fighter.
A super book on this iconic aircraft with a smart multi-signed bookplate signed by seven incredibly brave men.