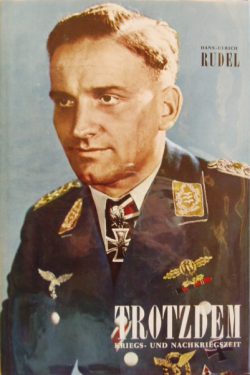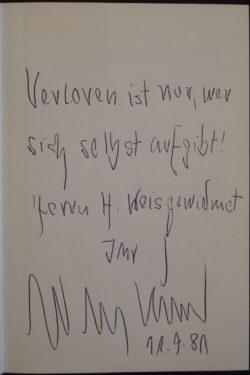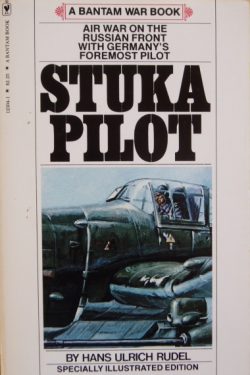 TROTZDEM
Air war on the Russian Front with Germany's most decorated pilot
Signed by Hans-Ulrich Rudel
Sold
Inscribed, signed and dated on the front end paper by
Hans-Ulrich Rudel
Inscribed with Rudel's famous saying:

Verloren ist nur, wer sich selbst aufgibt!

(Only he is lost, who gives himself up for lost!)
German language edition published in 1977. 474 pages and well illustrated with photographs.
Fine condition hardback book with bright red covers bearing Rudel's (pre-stroke) signature embossed in gold on the cover. Fine condition unclipped dustjacket.  The book comes with a Bantam War Book (1979)  illustrated paperback copy of the English version of the book entitled 'Stuka Pilot'. This book is in Fine condition and feels unread. 
The first part of 'Trotzdem', which translates as 'Nevertheless' or 'In Spite of Everything', has been published as 'Stuka Pilot'. The second part of the book is an account of Rudel's post-war activities. Possibly the best pilot memoir about the air war on the Russian front, Rudel began his amazing career as a Stuka pilot in Poland in 1939, fought in the battles of Leningrad, Stalingrad and Kursk and finished the war flying an FW190 and minus a leg.
Hans-Ulrich Rudel (1916–1982) was a Stuka dive-bomber pilot during World War II. The most highly decorated German serviceman of the war, Rudel was one of only 27 military men to be awarded the Knight's Cross of the Iron Cross with Oak Leaves, Swords and Diamonds, and the only person to be awarded the Knight's Cross of the Iron Cross with Golden Oak Leaves, Swords and Diamonds , Germany's highest military decoration. He had more decorations than Göring!
Rudel flew 2,530 combat missions claiming a total of 2,000 targets destroyed; including 800 vehicles, 519 tanks, 150 artillery pieces, 70 landing craft, nine aircraft, 4 armoured trains, several bridges, a destroyer, two cruisers, and the Soviet battleship Marat.  He was shot down or forced to land 32 times, several times behind enemy lines. He had many amazing escapes and adventures and 'Stuka Pilot' is an absolutely gripping read.
Rudel suffered a stroke in the 1970s and lost the use of his right arm.  He taught himself to write using his left hand, hence the rather distinctive signature and writing. This book was signed on 21/9/81, the year before Rudel's death in 1982.
This is a very rare signed book and would be an interesting and unusual addition to any WWII library.