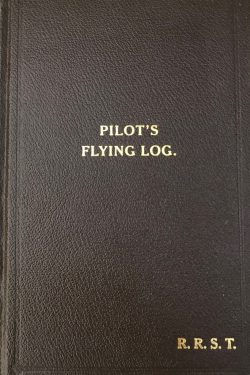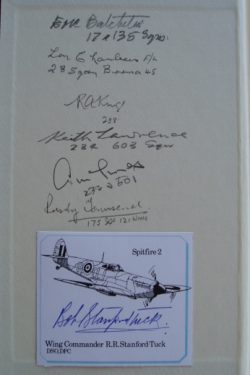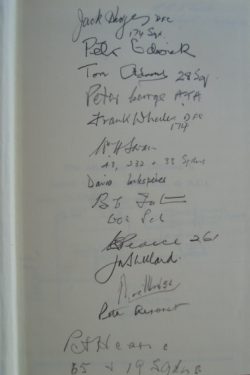 Stanford Tuck's Pilot Flying Log
Limited Edition of the flying log book of Wing Commander Bob Stanford Tuck DSO DFC**
Signed by Bob Stanford Tuck
Sold
Bob Stanford Tuck's Flying Log Book Special Limited Edition Number 800/2500
Bookplate signed by Bob Stanford Tuck on the inside cover
+ Signed by 19 WWII RAF Fighter Pilots including 5 Battle of Britain pilots
Bob Kings, Keith Lawrence, Archie McInnes, Bob Foster & Roger Morewood
Published by After The Battle. Limited edition 1996. Complete with numbered limited edition certificate.
Fine condition hardback book in a brown leatherette cover with gilt titles.  As new and unread
This is no 800 of a limited edition of 2,500 copies which were published in 1996 and is an exact facsimile of Bob Stanford Tuck's original logbook. This lavishly produced full colour replica covers Stanford Tuck's RAF career from his first flight in Avro Tutor K3257 on 2 Oct 1935 to his final sortie in a Canberra in 1954, complete with assessments of ability from his commanders (Exceptional!)
The section covering the Battle of Britain is superb and recorded in the matter of fact manner of the day. Tuck's final wartime Op on 28th January, 1942 reads "Rhubarb Patrol. Prisoner of War." When he went "in the bag", he had achieved 29 victories and had he continued on operations, could well have become Britain's top scoring ace.
As close as it comes to owning the real thing. This is a fascinating book to dip into and cross reference to events in 'Fly For Your Life' and it comes with a pictorial Bob Stanford Tuck signed bookplate and a neat collection of veteran signatures in pencil.